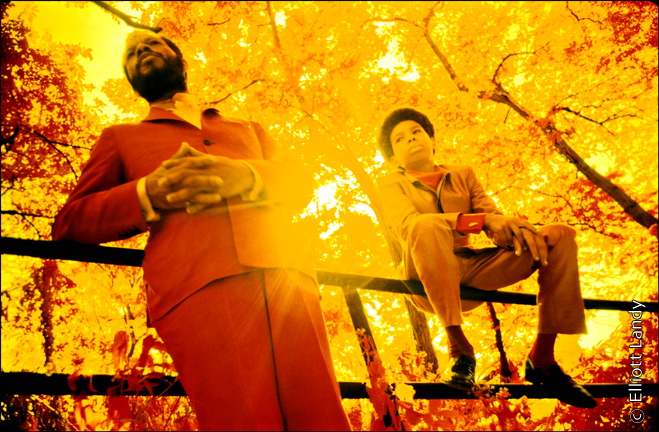 Creative Music Studio instructors, known as Guiding Artists, are international luminaries from the experimental edges of music, literature, dance, poetry and other arts. Initially, many of the Guiding Artists were those who had moved to the Woodstock, New York area, including Dave Holland, Carla Bley, Jack DeJohnette, Steve Gorn, and Anthony Braxton, among many others.
After a few years of conducting workshops, the Creative Music Studio's reputation exploded and soon, Guiding Artists from all over the world—and from all of the world's musical traditions—began flocking to CMS. They came from California and Maine, from Turkey and Italy, from South America and Africa. Their talents spanned a variety of artistic disciplines and their backgrounds helped create a fertile foundation for a musical blend never before seen or heard. Among this second wave of CMS Guiding Artists are: Don Cherry, Jimmy Giuffre, Frederic Rzewski, Wadada Leo Smith, The Art Ensemble of Chicago, Cecil Taylor, Baba Olatunji, Roscoe Mitchell, Pat Metheny, George Lewis, Nana Vasconcelos, Foday Musa Suso, Oliver Lake, John Cage, Paulo Moura, Ismet Siral, Allen Ginsberg, Aiyb Dieng and many others.
This growth continues today; CMS Guiding Artists, who come from all edges of musical innovation and traditions, come to CMS to transmit their wisdom and insights about music. These have included major award winners such as MacArthur Fellows Vijay Iyer, Tyshawn Sorey and Steve Coleman, and Pulitizer Prize winning composer Henry Threadgill, as well as artists representing a variety of backgrounds and traditions, from Amir elSaffar's teaching Maqam, Hassan Hakmoun with gnawa music, and Cyro Baptista's exploration of Brazillian rhythms to Badal Roy's teaching the language of tabla and Indian ragas and Don Byron sharing his love of American gospel music.
CMS Guiding Artists in 2013 - 2017 have included Vijay Iyer, Steve Coleman, Dave Douglas, John Medeski, Henry Threadgill, Pauline Oliveros, Fabaian Almazan, Mary Halvorson, Nels Cline, Susie Ibarra, Joe Lovano, Marty Ehrlich, John Hollenbeck, Rudresh Mahanthappa, Hassan Hakmoun, Adam Rudolph, Billy Martin, Oliver Lake, Don Byron, Tyshawn Sorey, Peter Apfelbaum, Tony Malaby, Cyro Baptista, Marilyn Crispell, Min Xiao Fen, Joe McPhee, Taylor Ho Bynum, Angelica Sanchez, Steven Bernstein, Jason Hwang, Omar Tekbilek, Kirk Knuffke, Kenny Wessel, Steve Gorn, Mark Helias, Tom Rainey, Maria Grand, Tanya Kalmanovitch, Thomas Buckner, Judi Silvano, Iva Bittova, Harvey Sorgen, Tani Tabbal, Ken Filiano, Badal Roy, Warren Smith, Omar Tamez, and John Menegon, in addition to Creative Music Foundation co-founders Karl Berger and Ingrid Sertso.
An alphabetical listing of Guiding Artists:
A 
John Abercrombie, Rashied Ali, Barry Altschul, Maryanne Amacher, Ramsey Ameen, William Ames, Peter Apfelbaum, Walter Zuber Armstrong, Art Ensemble of Chicago
B 
Derek Bailey, Cyro Baptista, A. Spencer Barefield, Thurman Barker, David Behrman, Ingrid Berger, Karl Berger,  Warren Bernhardt, Steven Bernstein, John Betsch, Ed Blackwell, Carla Bley, Lester Bowie, Charles Brackeen, Anthony Braxton, Peter Brotzmann, Marion Brown, Thomas Buckner, Peter Buettner, Dave Burrell, Taylor Ho Bynum, Don Byron
C 
John Cage, Baikida Carroll, Kent Carter, Joseph Celli, Andrea Centazzo, Eugene Chadbourne, Dennis Charles, Larry Chernicoff, Don Cherry, Jay Clayton, Ornette Coleman, Steve Coleman, John Colpitts, Steve Colson, Sara Cook, Jerome Cooper, Chick Corea, Tom Cora, Marilyn Crispell, Blondell Cummings, Alvin Curran
D
Z.M. Usted Dagar, Olu Dara, Anthony Davis, Don Davis, Thulani Davis, Jack DeJohnette, Paul De Marinas, Yaya Diallo, Robert Dick, Aiyb Dieng, Dave Douglas, Hamid Drake
E-F
Marty Ehrlich, Amir ElSaffar, James Emery, Douglas Ewart, Malachi Favors, Min Xiao Fen,  Ken Filiano, Milo Fine, Semith Firincioglu, Guilherme Franco, Becky Friend, Fred Frith, Paul & Limpe Fuchs
G 
Allen Ginsberg, John Giorno, Jimmy Giuffre, Gene Golden, Andy Gonzalez, Jerry Gonzalez, Steve Gorn, Andre Goudbeek, Maria Grand,  Janet Grice, Trilok Gurtu
H
Steve Haas, Charlie Haden, Hassan Hakmoun, Mary Halvorson, Jim Hartog, James Harvey, Mark Helias, Julius Hemphill, Dick Higgins, Gary Hill, Richard Hill, Timothy Hill,  Anthony Holland, Dave Holland, John Hollenbeck, William Hooker, Zakir Hussein, Jason Hwang
I-J
Abdullah Ibrahim, Vijay Iyer, David Izenson, Michael Gregory Jackson, Ronald Shannon Jackson, Joseph Jarman, Ahmadu Jarr, Leroy Jenkins, Howard Johnson, Raymond Johnson, Rrata Christine Jones
K
Don Knaack, Tanya Kalmanovitch, Kurt Knuffke, Steven Kolpan, Toshinori Kondo, Lee Konitz, Alhaji Bai Konte, Dembo Konte, Takehisa Kosugi, Peter Kowald, Katrina Krimsky, Garry Kvistad
L-M
Steve Lacy, Pheeroan ak Laff, Oliver Lake, Byard Lancaster, Jeanne Lee, Sylvain Leroux, George Lewis, Garrett List, Mark Lockett, Joe Lovano, Frank Lowe, Jimmy Lyons, Michael Lytle, Rudresh Mahanthappa, Tony Malaby, Mike Manieri, Michael Mantler, Dumisani Maraire, Billy Martin, Stu Martin, Joe McPhee,  John Medeski, John Menegon, Kalaparusha Maurice McIntyre, Pat Metheny, Harry Miller, Roscoe Mitchell, Louis Moholo, Grachan Moncur III, Butch Morris, Bob Moses, Paulo Moura, Paul Motian, Don Moye, Ephat Mujuru, Sunny Murray                                   
N-P
Pandit Pran Nath, Edmund Niemann, Babatunde Olatunji, Pauline Oliveros, Ursula Oppens, Peter Orlovsky, Gerald Oshita, K. Paramjyoti, Evan Parker, J.D. Parran, Hannibal Peterson, Henri Pousseur, John Preinenger
R-S 
Vasant Rai, Tom Rainey, Dewey Redman, Steve Reich, Sam Rivers, Rova Saxophone Quartet, Badal Roy, Roswell Rudd, Adam Rudolph, George Russell, Frederic Rzewski, G.S. Sachdev, Angelica Sanchez, Ed Sanders, Carlos Santana, Tom Schmidt, Lakshmi Shankar, Schoenberg String Quartet, Alan Silva, Judi Silvano, Ismet Siral, Leo Smith, Warren Smith, Harvey Sollberger, Tyshawn Sorey, Harvey Sorgen,  Speculum Musicae, John Surman, Foday Musa Suso, Steve Swallow
T-Z
Tani Tabbal, Omar Tamez, Cecil Taylor, John Tchicai, Omar Farouk Tekbilek,  Richard Teitelbaum, Faruk Tekbilek, Haci Tekbilek, Walter Thompson, Henry Threadgill, Yung Yung Tsuai, Tamia Valmont, Tom Varner, Erasto Vasconcelos, Nana Vasconcelos, Janine Pommy Vega, Murat Verdi, Miroslav Vitous, Collin Walcott, Ann Waldman, Carlos Ward, Peter Warren, Kenny Wessel, Kenny Wheeler, Philip Wilson, Gary Windo, Carlos Zingaro, John Zorn