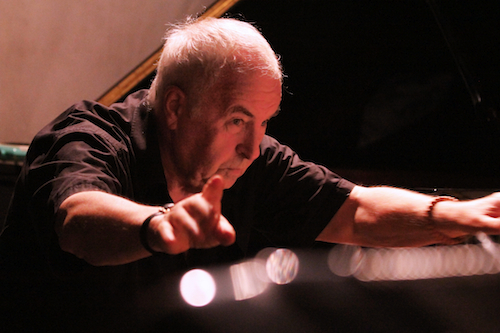 Creative Music Studio Philosophy
What is "Music Mind?"
The philosophy of the Creative Music Studio™ is something CMS™ calls "Music Mind." It is the foundation of CMS' work, helping musicians of any background or skill level practice and perform music more spontaneously with vitality and emotion. And, it helps listeners to more deeply tune in. Isn't that why most people were attracted to music in the first place? When music is performed well, it pulls people in; the performers and listeners are emotionally moved by the experience.
The discipline of Music Mind applies to classical, jazz, folk, rock, or virtually any type of music, because it is based on a basic question: "What elements are common to any kind or form of music in the world?" Much music education focuses on styles, songbooks and technique – what we call 'first floor' instruction. In contrast, Music Mind is "ground-floor" education that emphasizes improvisation, instant composition and personal spontaneity over stylistic conventions, facilitating personal musical development and deeper communication. CMS' Basic Practice – body-work, rhythm/vocal training and deep listening – are designed to cultivate Music Mind.
But, the technical and physical challenges of making music can be daunting, even for professional musicians. In addition, nerves or stage fright can get in the way as well. Too much attention on playing the right notes correctly can shift performers' goals away from playing music to just hoping they don't mess up. The practice of Music Mind can help performers shift from playing everything correctly to actually making music that deeply connects with people.


CMS Guiding Artists work with professionals, dedicated amateurs, people who just want to get started making music, and even listeners who want to deepen their appreciation of music. CMS attracts people from varied musical traditions and skill levels. During CMS workshops and classes, people begin to hear the reasons why some musicians inspire and move them, and why others do not. And then, even more important, participants begin to apply Music Mind principles in their own playing, singing, and listening. Listening and playing with a 'Music Mind' can have almost immediate benefits.
To encourage and develop the Music Mind, CMS and its co-founder/artistic director Karl Berger has developed Basic Practices of universal musical elements that are fundamental to CMS' pedagogy. These include:
Chatter and Flow: It is flow that allows a river or a piece of music to move. Musicians need to be in synch with and trust their intuitive flow. Often inner chatter or outer distractions get in the way. Music Mind helps musicians and vocalists tune in to and strengthen the spontaneous flow of "playing from the heart" while not allowing distractions to interrupt the movement of the music.
Rhythm and Timing: CMS created the GaMaLaTaKi rhythmic system to help people feel the musical pulse and beat that is at the core of almost all music. This practice helps shift attention from merely thinking about keeping good time to actually internalizing the underlying heartbeat of music and breaking through habitual patterns. It fine-tunes awareness to each and every beat. This "beat-for-beat attention" often changes how people engage with and experience music, as musicians and listeners. Even professional percussionists have found huge benefits.
Sound and Space: Enhanced sensitivity for sound provides the foundation for players from different musical traditions to play together. Hearing notes as ever-changing layers of "harmonics" facilitates the understanding and practice of tuning in and creating sounds that harmonize together. Too often, musicians pay attention to the sounds without paying equal attention to the silence that surrounds those sounds. CMS helps people hear and appreciate the interplay between silence and sound in their music. This concept applies to both improvised and written music.
Dynamics: This involves more than just playing soft or loud; it helps shape the arc of the music. Attention to the subtle (and profound) shift in dynamics can turn something as simple as a few notes into an enriching musical experience.
CMS' Music Mind and the CMS Basic Practices are pathways that anyone can use to deepen their appreciation and feeling for music of any kind. CMS co-founder Karl Berger created Music Mind and CMS Basic Practice as a flexible system, allowing individual Guiding Artists, such as CMS associate artistic directors Billy Martin, Steven Bernstein and Peter Apfelbaum, to share their unique take on the Music Mind "ground floor" principles with a new generation of musicians and listeners.