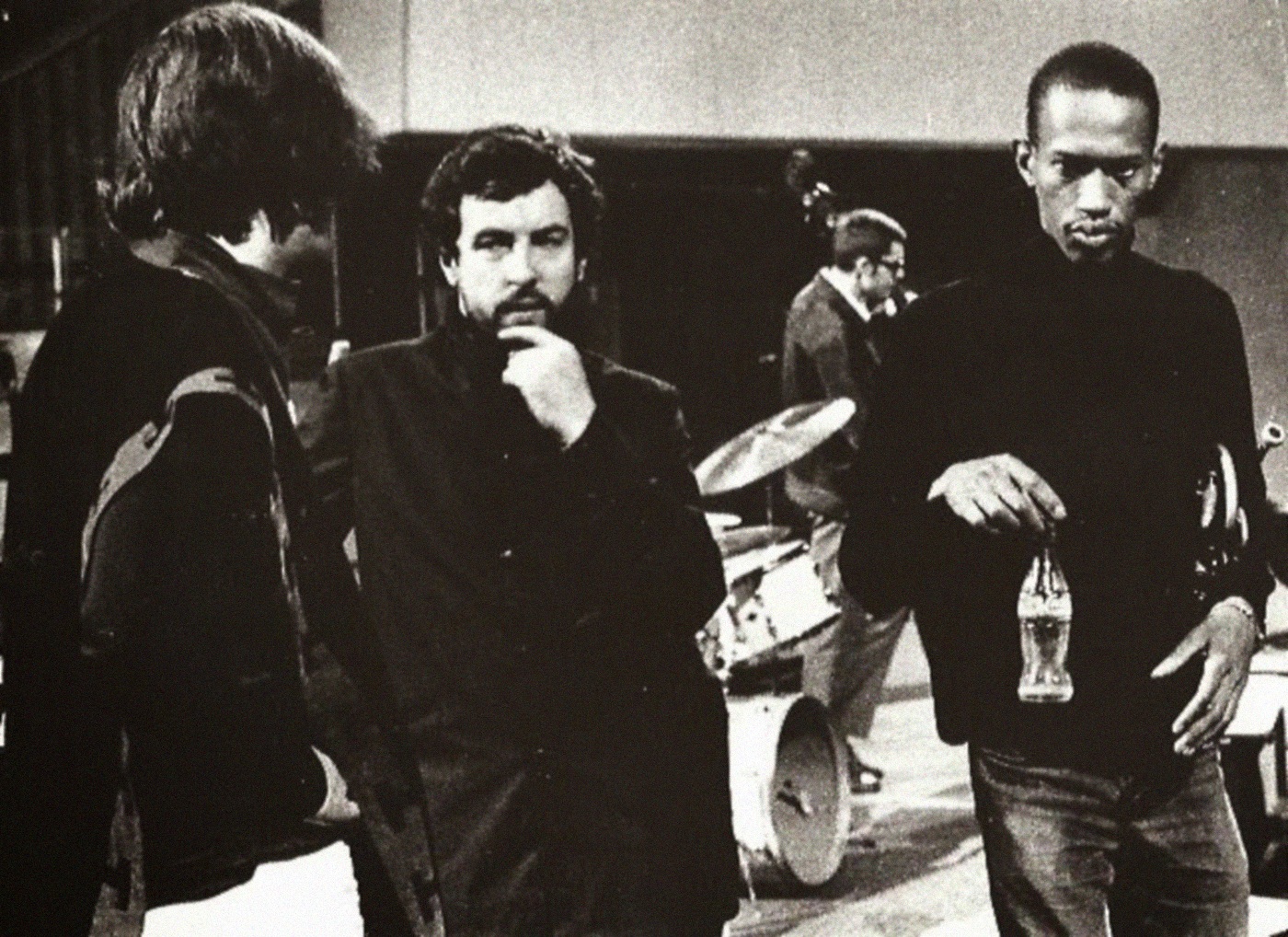 Creative Music Studio Milestones: 1965-2016
1965
Karl Berger and Ingrid Sertso come to New York. Karl comes as a member of Don Cherry's band.
1967
Karl joins Horace Arnold, Sam Rivers, and Reggie Workman for "Young Audiences" teaching program in New York public schools.
1970-1971
Karl takes over John Cage's teaching position at the New School for Social Research.
1971
Ornette Coleman, Karl Berger, and Ingrid Sertso establish the Creative Music Foundation as a New York State 501(c)3 nonprofit corporation.
1973
Creative Music Studio begins offering instructional workshops at various locations in Woodstock, New York.
Early sessions feature Karl and Ingrid, Leroy Jenkins, Dave Holland, Jack DeJohnette, Lee Konitz, Don Cherry, Sam Rivers, Richard Teitelbaum, Stu Martin, Garrett List, and Ed Blackwell.
1975
Karl and Ingrid first travel to Naropa Institute in Boulder, Colorado, at the invitation of Chogyam Trungpa Rinpoche, who gave Ingrid the name Sertso  ("gold lake of understanding").
CMS moves into Lutheran camp in Mt. Tremper, New York.
1977
Creative Music Foundation purchases Oehler's Mountain Lodge, a 50-acre facility near Woodstock with multiple buildings for teaching, eating, playing, recording and dormitories.
1978
Writers Allen Ginsberg and Ed Sanders hold poetry workshops at CMS.
CMS receives Comprehensive Employment and Training Act (CETA) grant.
New Year's Intensive session with the Art Ensemble of Chicago strengthens the connection between CMS and the Chicago-based Association for the Advancement of Creative Musicians (AACM).
Garret List organizes the first of three Composers' Colloquia. This one includes Ken McIntyre, John Cage, Maryanne Amacher, Michael Gibbs, Frederic Rzewski, Christian Wolff, Carla Bley, Garret List, and Karl Berger
1979
Art Ensemble of Chicago returns for a second New Year's Intensive.
CMS's Woodstock Workshop Orchestra takes a four-week tour of Europe. The orchestra includes Karl and Ingrid, Oliver Lake, Lee Konitz, Trilok Gurtu, Don Cherry, George Lewis, and many CMS participants.
The first of a series of annual world-music summer festivals/seminars includes Don Cherry, Trilok Gurtu, Steve Gorn, Alhaji Bai Konte, Nana Vasconcelos, Guilherme Franco, and others.
Roscoe Mitchell leads a summer session with workshops by Joseph Jarman, George Lewis, Anthony Braxton, Leo Smith, and A. Spencer Barefield.
1980
New Year's Intensive session features Cecil Taylor.
Karl conducts "Advanced Studies in Improvisational Composition" at the Banff Centre School of Fine Arts in Banff, Alberta, Canada, with Dave Holland, Sam Rivers, Ed Blackwell, Frederic Rzewski, and others.
Summer world-music festival includes Jerry Gonzalez, Aiyb Dieng, Mandingo Griot Society with Adam Rudolph, Ismet Siral, Haci Tekbilek, and many of the artists from the 1979 session.
Composers' Colloquium includes Douglas Ewart, Muhal Richard Abrams, George Lewis (all from the AACM), and others.
1981
Woodstock Jazz Festival held as a CMS fundraiser. Pat Metheny, Chick Corea, Anthony Braxton, Lee Konitz, Jack DeJohnette, Ed Blackwell, and a host of CMS participants perform; the performances are recorded and released on Douglas Recordings; a videotape is also produced and distributed.
Watazumido Dozo Roshi, babmboo flute master and Japanese national treasure visits CMS.
Pauline Oliveros comes to CMS to help develop and sustain the organization.
1982
New Year's Intensive session features Pat Metheny, Jack DeJohnette, and Dave Holland.
Summer world music festival features Babtaunde Olatunji as well as various reggae bands.
1983
Karl and Ingrid purchase a house on the property of the Lutheran Camp in Mt. Tremper, where CMS had been located 1975-1977. It's called Welcome House and serves as a residence and a workshop/performance space.
1984
Oehler's Mountain Lodge is sold. Workshops continue for a brief time at Welcome House, but CMS activities soon come to an end. Jimmy Cobb, Roswell Rudd, Olatunji, and others taught at Welcome House.
1984-1989
Karl travels to The Philippines, India, Europe, and Japan under the auspices of the Goethe-Institut. Ingrid travels with him to Africa and Brazil. The Africa trip is hosted by Babatunde Olatunji. Trilok Gurtu accompanies Karl to India.
1991
Karl begins teaching at Hochschule für Musik und Darstellende Kunst, Frankfurt am Main (Frankfurt University of Music and Performing Arts). For most of the nineties, Karl travels back and forth between Woodstock and Germany.
2002
Karl begins teaching at University of Massachusetts Dartmouth.
2004
Karl and Ingrid open Sertso Studio in Woodstock to provide a hospitable recording environment for CMS artists and others from Woodstock and New York City.
2006
"In the Spirit of Don Cherry" series of performances launches. The first features Karl and Ingrid, Graham Haynes, Carlos Ward, Peter Apfelbaum, Bob Stewart, Mark Helias, and Billy Elgart. The group performs compositions by Don Cherry, Karl Berger, and Peter Apfelbaum, who was Don's musical director in Don's later years.
First session of Ismet Siral Creative Music Studio workshops and concerts takes place in Istanbul, Turkey. Karl and Ingrid bring Steve Gorn, Carlos Ward, Graham Haynes, John Lindberg, Tani Tabal, Henry Grimes, Marilyn Crispell, and Trilok Gurtu. Many leading Turkish musicians participate.
2007
Ted Orr begins digitizing the CMS audio archive at Sertso Studio.
2008
Rob Saffer begins working with Karl and the Creative Music Foundation. He creates a business plan and CMS's first website.
Rob produces  CMS benefit concert featuring Anthony Braxton, John Zorn, Steven Bernstein and others at NYC's Symphony Space.
The New York Times (Ben Ratliff) writes a feature about the CMS Archive Project.
2010
Second session of Ismet Siral/Creative Music Studio workshops and concerts takes place in Istanbul, Turkey. Karl and Ingrid, Adam Rudolph, Cyro Baptista, John Zorn (and his Masada bandmates Marc Ribot, Kenny Wolleson, and Greg Cohen), John Lindberg, Oliver Lake, Trilok Gurtu, Kenny Wessel, Steve Gorn, Tani Tabbal, Haci Tekbilek, and Omar Tekbilek all participate.
Rob Saffer joins the Creative Music Foundation's board of directors and begins to take an active role as CMS's producer.
CMS and Columbia University Libraries enter into an agreement that will lead to Columbia being the long-term home of the CMS Archives.
2011
Jazz Studies Program at Columbia University presents "The Creative Music Studio: A Symposium." Four panels speak on CMS's past, future, and impact. Panels include Karl Berger, Ingrid Sertso, Rob Saffer, Bob Sweet, Ted Orr, Adam Rudolph, Don Davis, Steve Gorn, Sylvain Leroux, Marilyn Crispell, James Emery, Oliver Lake, and Ilene Marder.
Karl holds the first of his Karl Berger Improvisers Orchestra workshop/rehearsal performances at The Stone in New York City; 25 musicians, including John Zorn, squeeze in to play.
2013
Fortieth anniversary celebration and workshops are held at the Full Moon Resort in Big Indian, New York. The spring session features John Medeski, Mark Helias, Oliver Lake, Don Byron, Dave Douglas, Steven Bernstein, Marilyn Crispell, Steve Gorn, guitarist Ken Wessel, Mark Helias, Ken Filiano, Harvey Sorgen, Tani Tabbal, Thomas Buckner, Ingrid Sertso, and Karl Berger.
MacArthur Foundation Fellow Vijay Iyer teaches at the fall fortieth-anniversary workshop. He joins Cyro Baptista, Peter Apfelbaum, Tony Malaby, Jason Hwang, Kirk Knuffke, Tom Rainey, Kenny Wessel, Steve Gorn, Harvey Sorgen, Mark Helias, Thomas Buckner, Karl Berger, and Ingrid Sertso.
CMS begins to record video and audio of its workshops.
The Wire profiles CMS in extensive feature story
2014
Innova Recordings releases the first three-CD set of CMS archive recordings. Performers include Ed Blackwell, Charles Brackeen, David Izenson, Ingrid Sertso, Frederic Rzewsk, iUrsula Oppens, Karl Berger, Leroy Jenkins, James Emery, Olu Dara, Michael Gregory, James Harvey, Garrett List, Steve Gorn, Adam Rudolph, Hamid Drake, John Marsh, CMS Orchestra. Oliver Lake, Roscoe Mitchell, Ismet Siral, Nana Vasconcelos, and Foday Musa Suso.
Innova archive recordings are reviewed in Jazziz, Jazz Weekly, Cadence, The Wire, Woodstock Times, New York City Jazz Record, and other publications.
CMS receives Grammy Foundation grant for CMS Archive audiotape digitization project.
CMS conducts its first Kickstarter and Hatchfund crowd-sourced fund-raising campaigns.
2015
CMS receives second Grammy Foundation grant for the CMS Archive audiotape digitization project.
Volume 1 of the CMS archive recordings receive rave reviews with Jazz Times and Cadence calling it 'best historical jazz record of 2014.'
Planet Arts releases volume 2 of the CMS archive recordings, featuring performances by Anthony Braxton/Marilyn Crispell, Kalaparusha Maurice McIntyre, Frederic Rzewski/Karl Berger, Paul Motian/Charles Brackeen/David Izenzon, Lee Konitz/Karl Berger/Peter Apfelbaum, Don Cherry, Baikida Carroll, Gerry Hemingway, Ismet Siral/Steve Gorn/Trilok Gurtu, Collin Walcott/Aiyb Dieng/Nana Vasconcelos/Trilok Gurtu, Amadou Jarr, Aiyb Dieng/Karl Berger, Paulo Moura.
WKCR produces a five hour 'Jazz Profile' on CMS and its Archive; Steven Bernstein and Peter Apfelbaum join in-studio.
Amir ElSaffar leads the first CMS workshop focusing on Arabic music;  Rudresh Mahanthappa teaches the first Carnatic jazz workshop at CMS.
Karl Berger Improvisers Orchestra presents its 83rd performance in New York City.
2016
CMS Archive Project is completed – 551 performances. All audiotapes and memorabilia are now digitized and preserved for posterity at Columbia University Library.
Creative Music Foundation expands its board of directors to thirteen members.
CMS names Peter Apfelbaum, Steven Bernstein and Billy Martin Associate Artistic Directors.
CMS performs first concert at Greenwich House Music School (NYC) focusing on Don Cherry's music.
CMS receives New York State Council on the Arts (NYSCA) grant for performances.
Two workshops in Big Indian, NY, include Guiding Artists Hassan Hakmoun, MacArthur Fellow Steve Coleman, Adam Rudolph, Pauline Oliveros, Fabian Almazan, Steven Bernstein and others.
CMS Improvisers Orchestra (CIO) performs its 90th concert in New York City. 
2017
CMS receives Robert D. Bielecki Foundation grants for a workshop and three concerts at Greenwich House Music School, and four CMS Improvisers Orchestra performances in New York City.
CMS conducts first NYC workshop in decades; Nels Cline and Susie Ibarra lead master classes.
Concerts at NYC Greenwich House Music School feature The Music of Richard Teitelbaum (with Marilyn Crispell, Leila Boudreuil, Miguel Frasconi) and New Music from Karl Berger, a preview of an upcoming recording with strings on Tzadik Records. 
CMS Improvisers Orchestra performances feature special guests David Soldier and Valerie Naranjo. 
Spring Workshop includes Guiding Artists Min Xiao Fen, Peter Apfelbaum, Joe McPhee, Tanya Kalmanovitch, Angelica Sanchez and special appearances by Billy Martin, Steven Bernstein and vocalist Timothy Hill; Participants come from Maine to California, Mexico, China and Japan. 
CMS produces 12 concerts in June, from small ensemble to orchestra and from the Catskills to NYC.
The New York Times profiles CMS and its future in a feature article, "Creative Music Studio Changes Hands at Critical Moment for Jazz." 
The Woodstock Times features CMS on its front cover in an extensive article, "New Blood Revitalizes Woodstock's Creative Music Studio." 
CMS returns to Woodstock's legendary Maverick Concerts to perform an octet tribute to Don Cherry
CMS Fall Workshop features Guiding Artists Billy Martin, Mary Halvorson, Omar Tekbilek, Maria Grand, Timothy Hill, Ken Filiano, Karl, Ingrid and many others; Participants come from Italy, Denmark, Argentina and across the U.S. 
CMS receives performance grant from New York State Council on the Arts