The rejuvenated Creative Music Foundation has just released the first compilation CD set comprised of music from the CMS Archive Project, nearly 500 concerts that took place at Woodstock's legendary Creative Music Studio between 1973 and 1984. The 3-CD set, Creative Music Studio Archive Selections Vol. 1, is being distributed by the American Composers Forum/Innova Recordings and is full of rare recordings and musical combinations divided into Small Ensemble, Orchestral and World music performances. It is available here for $29 from Innova Recordings. Digital downloads are available at iTunes  and at Amazon.
The first edition of the box sets features the following artists:
Small Ensembles: Ed Blackwell/Charles Brackeen; David Izenson, Karl Berger, Ingrid Sertso, James Emery/Leroy Jenkins, Ursula Oppens/Fred Rzewski
Orchestral: Oliver Lake; Olu Dara; Roscoe Mitchell
World: Foday Musa Suso, Nana Vasconcelos, Ismet Siral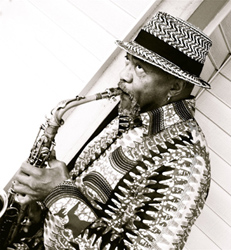 The sets feature Liner Notes Volume I on the recordings, the history of CMS and its Archive Project as well as rare photos from the CMS Archive, all available online as a PDF. Additionally, CMF's Oral History Project has conducted interviews with some of the artists, including Olu Dara and Oliver Lake, and has published transcripts here.
"These recordings present a cross-section of the cross-pollination that occurred regularly at CMS," said CMF co-founder and artistic director, Karl Berger.  "We divided them up neatly for these CDs, but it was far from divided or neat at CMS! These gems show that energy."
What reviewers are saying:
Cadence: Best of 2014, Historical Jazz Album — "What an absolute treat this one is…a treasure trove."
Jazz Times: Best Historic/Reissue of 2014
Named "Best of 2014, Historical Jazz Album" in Cadence Magazine by Michael G. Nastos
"What an absolute treat this one is. … [A] treasure trove. … Izenzon's solos are very robust and occasionally quizzical, as when he mimics knocks on a door and answers gruffly 'go away, I'm practicing.' It's a great opportunity to hear this distinctive bassist unfettered. … The bracing, complex piano duo is a real archival find, and the two 'classical' musicians (each of whom has well-known and lengthy associations with improvisers' collectives) create some seriously dynamic music. And the duos for Jenkins and Emery are exquisite, filled with real lyricism, lush lines and chords, and palpable empathy. … One of the greatest pleasures is the opportunity to hear archival stuff from Suso's Mandingo Griot Society, with funky interaction between Drake and Marsh's electric bass, and loads of zesty kora and percussion. Best is the brisk, danceable 'Demba,' but the mid-tempo 'Disco Gate' features the most expressive work from Suso, and a winning explanation of his instrument's lineage to the audience. It's a fine conclusion to this release, one I imagine most readers will enjoy considerably."
—Jason Bivins
GAPPLEGATE MUSIC REVIEW (May 9, 2014)
"[S]o much noteworthy music here … [E]verything is of extraordinary interest for those who dig the advanced new music/avant jazz scene. If you are you will no doubt be as glad as I am to have this set to listen to repeatedly. It is a treasure! I look forward to subsequent volumes." —Greg Edwards
MONSIEUR DELIRE (July 9, 2014)
"Volume 1 covers a lot of ground. … [T]his stuff truly deserved to be let out of the vault. Curious to see what the next volumes have in store."
—Francois Couture
JAZZ TIMES (Jan. 2015)
Named Best of 2014, Historical/Reissue by Shaun Brady
Shaun Brady 
"Best of 2014" – Historical/Reissues: 
1. John Coltrane Offering: Live at Temple University (Resonance/Impulse!) 
2. Creative Music Studio Archive Selections Vol. 1 (Innova) 
3. Miles Davis Miles at the Fillmore—Miles Davis 1970: The Bootleg Series Vol. 3 (Columbia/Legacy) 
4. Frank Lowe Quartet Out Loud (Triple Point)
The Wire: "Marvelous improvisations…elegantly intuitive…rigorously focused, at times fiercely concentrated music…be sure to catch this glimpse into a genuinely exploratory and still exhilarating musical gathering."
The recordings are part of the CMS Archive Project. Its three main goals are: 1) to restore, preserve and digitize the tapes for posterity; 2) to return the re-mastered versions to the musicians who made them, free of charge; and 3) to share the music with fans, musicians and scholars around the world by producing this series of 3-CD sets.
The Creative Music Foundation has partnered with Columbia University's Library to preserve the CMS Archive for posterity. CMS is giving Columbia the full archive of recorded tapes, along with memorabilia and photographs from CMS. CMS co-founder Karl Berger and audio engineer (and former CMS participant) Ted Orr are going through each tape, digitizing and re-mastering them, a time consuming process that's as much a labor of love as it is technical.  The digitized, re-mastered recordings will be available at the Columbia University Library for scholars or others who want to enjoy and learn from them.