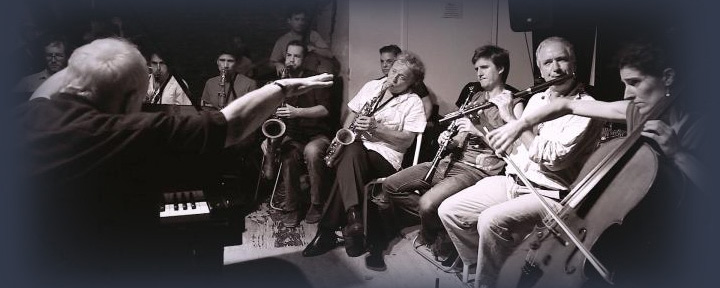 Creative Music Studio Changes Hands at a Critical Moment for Jazz, The New York Times
Across four days at the Creative Music Studio's workshop here this month, roughly two dozen musicians of widely varied ages and skill levels spent hours sitting in a circle in the large barn at the Full Moon Resort.
The vocalist and Chinese pipa player Min Xiao-Fen instructed them on how to play a piece in the Peking opera style; the multi-instrumentalist Peter Apfelbaum led a performance of a harmony-rich Prince ballad; the violist Tanya Kalmanovitch asked them to focus on how best to end an improvisation — something that's rarely taught....Read More.
New Blood Revitalizes Woodstock's Creative Music Studio, The Woodstock Times 
It hardly seems possible but Woodstock's own Creative Music Studio, that ethereal prodigy of a golden era, has been sent to the gym and returned rippling with muscle. Like the town's original experiment in freedom (known since 1905 simply as "The Maverick") CMS remains, first and foremost, a forever tolerant state of mind. So how do "forever tolerant" and "rippling with muscle" coexist? This is how: with a kick-ass new board, a supercharged trio of artistic directors, and the original god-parents of World Music, Karl Berger & Ingrid Sertso, imperturbably at its heart....Read More. 
Workshop of the World, The Wire
When German musicians Karl Berger and Ingrid Sertso established the Creative Music Studio in Woodstock in 1973, they were inspired by Ornette Coleman and Don Cherry, and encouraged by John Cage and Buckminster Fuller. Howard Mandel tells the story of a utopian educational outpost which has risen from the ashes to spread the message of universal music once more. Read More
CMS Archive Project CD Set Reviewed
The first edition of the CMS Archive Project Selection CD sets, featuring Oliver Lake, Roscoe Mitchell, Musa Suso, David Izenson and many others, was positively reviewed in the in many publications, print and online (and both!), including in Downbeat, Jazziz, New York City Jazz Record and Cadence, among many others.  Read more.


CMS Gets Credit in NY Times Review
Ben Ratliff of the New York Times gave CMS a positive call-out in a July 31, 2014 review, saying, "The drummer Tyshawn Sorey and the pianist Marilyn Crispell played together as a duo only once before Tuesday night at the Stone. It was a couple of months ago, during a Creative Music Studio Workshop in the Catskills, and it lasted about 20 minutes. The reports were positive, and a video appeared online."  Read more
Making It Up on Drums, on Piano, on the Fly
Tyshawn Sorey and Marilyn Crispell Improvise at the Stone
By BEN RATLIFF  JULY 31, 2014
"The drummer Tyshawn Sorey and the pianist Marilyn Crispell played together as a duo only once before Tuesday night at the Stone. It was a couple of months ago, during a Creative Music Studio Workshop in the Catskills, and it lasted about 20 minutes. The reports were positive, and a video appeared online. It's a little compromised. Ms. Crispell is playing a digital keyboard; the subtleties of Mr. Sorey's drumming are compressed through YouTube audio. What can you do?"  Read more.
An Incubator of Jazz Improvisation: Karl Berger's Improviser's Orchestra at ShapeShifter Lab
From New York Times April 20, 2013
"Karl Berger, the jazz pianist, vibraphonist and conductor of improvisers, ran a workshop for his orchestra before its performance at ShapeShifter Lab in Brooklyn on Thursday night. He uses a few simple hand signals for duration, attack and pitch, and the musicians wanted to be sure they were interpreting the specifics correctly. But Mr. Berger seemed more concerned with telling them something very general."  Read more.
Karl Berger's Improvisers Orchestra Bring Their Lush Sounds to Brooklyn
From Lucid Culture December 8, 2012
"Karl Berger has been a pioneer in large-scale jazz improvisation longer than just about anybody, which explains why his Improvisers Orchestra swings as hard, and interestingly, and often hauntingly as they do..."  Read more.
Composer/Arranger/Conductor Karl Berger: A Zen master relishes the here and now
By Shaun Brady, Jazz Times, November 16, 2011
"…in a sense any project in which Berger takes the helm involves playing naked. As a disciple of Ornette Coleman's harmolodics, as a sideman for Don Cherry's early ventures into the fusion of jazz and world music, as the eccentric visionary behind the Woodstock-based Creative Music Studio, and now as mastermind and conductor of the Stone Workshop Orchestra, Berger has practiced and encouraged the art of opening oneself to the immediate, shrugging off preconceptions in order to hear the options inherent in the here and now."  Read more.
Karl Berger and Ingrid Berger: Interviews by Ted Panken
Interviews by Ted Panken, July 19, 2011
The Downbeat interview, that never made it to Downbeat is on a wordpress blog.
Read more.
Improvisers' Paradise Revisited by Howard Mandel
The legacy of the Creative Music Studio persists—if you listen
"…attention to sense perceptions and encouragement of imaginative play remain touchstones of the CMS method, along with study of the rhythmic exercise called GaMaLa Taki (for its syllabic division into three beats, and two), the overtone series and harmonics. "These are more basic, ground level elements of music than Western tradition teaches, starting with pitches written on staffs," says Berger."
Jazz Beyond Jazz
By Howard Mandel, Jazz Beyond Jazz, April 21, 2011
"…the study of the fundamental rhythmic exercise "GamalaTiKa," the overtone series and harmonics offers a young player more direct connection to the "playing" aspect of music than does learning to read scores. This is the kind of pedagogy that could take root all over, encouraging spontaneous, personalized music wherever it reaches. That's what happened last time, as the generation of CMS participants who emerged included percussionist Adam Rudolph, pianist Marilyn Crispell, tambin flutist Sylvan Leroux, bansuri flutist Steve Gorn, alto saxist Dan Davis, guitarist James Emery … trumpeter Steven Bernstein, multi-instrumentalist Peter Apfelbaum and many others. More good music, mixing tradition and creativity, all the time!"  Read more.
A Ferment of World Jazz Yields a Trove of Tapes
By Ben Ratliff, New York Times, October 21, 2008
"…Its (CMS) instructors were active performers and bandleaders, and they used the school as laboratory and playground. …Certainly the discoveries of the students — there were never more than 30 a term — were matched by the discoveries of the teachers. The studio did not promote one style because its teachers were too stylistically diverse. But a handful of important bands or records would not have happened without the studio as a spur, where the players were introduced to one another and the ideas were hatched."  Read more.