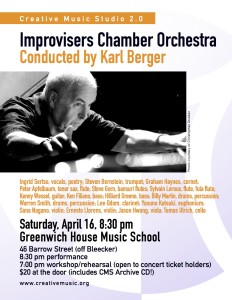 The revamped Creative Music Studio will present the debut of its new Improvisers Chamber Orchestra conducted by Karl Berger with a premiere performance on Saturday, April 16 at Greenwich House Music School, 46 Barrow Street (off Bleecker Street) in Greenwich Village.  An 8:30 pm performance will follow a 7:00 pm rehearsal that's open to concert ticket holders.
Performers include: Ingrid Sertso, vocals, poetry; Steven Bernstein, trumpet; Graham Haynes, cornet; Peter Apfelbaum, tenor sax, flute; Steve Gorn, bansuri flutes; Sylvain Leroux, flute, fula flute; Kenny Wessel, guitar; Ken Filiano, bass; Hilliard Greene, bass; Billy Martin, drums, percussion; Warren Smith, drums, percussion; Lee Odom, clarinet; Yasuno Katsuki, euphonium; Sana Nagano, violin; Ernesto Llorens, violin; Jason Hwang, viola; Tomas Ulrich, cello; and Karl Berger, conductor.
The Improvisers Chamber Orchestra, consisting of professional string, horn, reed, and percussion soloists, turns composed and improvisational ideas developed during a workshop/rehearsal into a fully formed chamber orchestra performance. A 7:00 pm workshop/rehearsal is open to concert ticket purchasers, who will also receive a CMS Archive Project compilation CD.
Berger developed his distinct and imaginative way of conducting at the legendary Creative Music Studio, the 45 year-old nonprofit Berger and Sertso co-founded with the late Ornette Coleman. The Improvisers Chamber Orchestra will explore original themes by Berger and other composers, melodies from the world's folk traditions and musical ideas that arise in spontaneous improvisations by the ICO's musicians. Berger's conducting blends and harmonizes improvised sounds and rhythms in constantly shifting instrumentations that highlight individual soloists.  The ICO features CMS artistic directors Berger and Sertso, along with its new associate artistic directors Bernstein, Martin and Apfelbaum.