Arturo O'Farrill, Anthony Coleman, Ingrid Laubrock, Peter Apfelbaum, Karl Berger and Ingrid Sertso To Lead Spring 2018 Workshop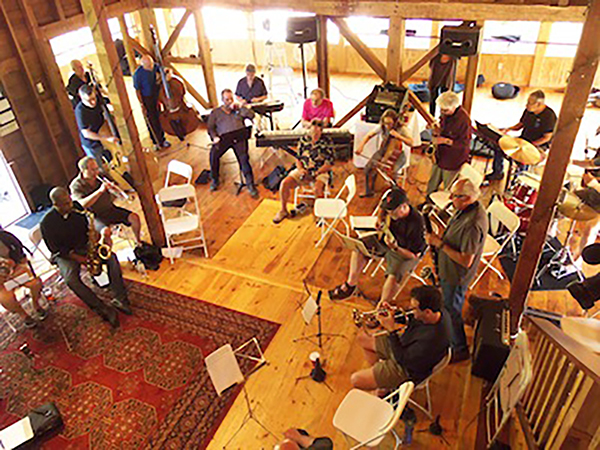 June 11 – 15 Workshop Features Intensive Workshops, Jam Sessions and Intimate Concerts in a Spectacular Mountainside Setting
Arturo O'Farrill, Anthony Coleman, Ingrid Laubrock, Peter Apfelbaum join CMS co-founders Karl Berger and Ingrid Sertso as Guiding Artists for the CMS Spring 2018 Workshop intensive, June 11 – 15 at the ear-inspiring Full Moon Resort in Big Indian, NY.
CMS' Spring Workshop, with long near-solstice days and short nights, features one Guiding Artist(s) working with participants in two workshops each day, creating multiple opportunities for artists to work directly with participants as individuals or in ensembles. As in the past, there will be daily CMS basic practice (body movement, breath work, rhythm and vocal training), as well as 90 minutes each day with Karl Berger leading an orchestra of improvisers. Additional Guiding Artists will be on hand to work with participants on a more personal level, informally coaching, playing and tutoring daily.
Recent testimonials from workshop participants: "My playing was reborn...I've been given the key to a musical language shared by few...CMS is beyond musical, it's therapeutic...The best musical experience I have had...It's a dream workshop...CMS is an unsurpassed life-changing experience...CMS workshops are like a reset switch for your creativity and spirituality... I found my freedom at CMS, in my ability to play what I hear and to hear what I play...CMS is more than a lesson in music, it is a lesson for life."
CMS Workshop Guiding Artists in 2013 - 2016 have included: Vijay Iyer, Steve Coleman, Dave Douglas, John Medeski, Henry Threadgill, Pauline Oliveros, Fabaian Almazan, Joe Lovano, Marty Ehrlich, John Hollenbeck, Rudresh Mahanthappa, Hassan Hakmoun, Adam Rudolph, Billy Martin, Oliver Lake, Don Byron, Tyshawn Sorey, Peter Apfelbaum, Tony Malaby, Cyro Baptista, Marilyn Crispell, Taylor Ho Bynum, Angelica Sanchez, Steven Bernstein, Jason Hwang, Kirk Knuffke, Kenny Wessel, Steve Gorn, Mark Helias, Tom Rainey, Maria Grand, Thomas Buckner, Judi Silvano, Iva Bittova, Harvey Sorgen, Tani Tabbal, Ken Filiano, Badal Roy, Warren Smith, Omar Tamez, and John Menegon, in addition to Creative Music Foundation co-founders Karl Berger and Ingrid Sertso.
CMS Workshops feature four days of intensive workshops, master classes, intimate concerts and informal jam sessions that inspire active listening, personal expression, improvisation and musical exploration. Musicians of any instrument, including voice, are welcome as are non-musicians. Adults who played music earlier in their lives can benefit from this lifelong learning opportunity that offers participants a once-in-a-lifetime experience to learn from and play with music masters, and to simply spend time with them in an informal, personal setting. The non-traditional atmosphere of the Creative Music Studio Workshop encourages participants to experiment, push beyond limits, genres and categories, to take risks, and to develop their own deeply personal musical expression.
"This workshop continues CMS' effort to showcase artists from diverse musical and personal backgrounds," said Karl Berger, CMS artistic director. "Our mission is about finding and sharing what's common to all music. Peter, Joe, Warren and Tanya are perfect examples – they all have different approaches to music, composition, sound and rhythm – the basic elements of all music."
Recaps of recent CMS workshops, along with highlight videos, are here.
A typical day at the CMS Workshop is:
8:00 – 9:30 Breakfast
9:45 - 10:05 Body Awareness
10:15 - 12:15 Master Class/Workshop
12:30 – 1:30 Lunch
1:45 - 2:00 Body Awareness
2:10 – 3:45 Master Class/Workshop
4:00 - 7:00 CMS Music Mind Practice
4:00 Basic Practice (rhythm/vocal)
5:00 Improvisers Orchestra
6:30 Listening Meditation
7:00 – 8:15 Dinner
8:30 – ? Performances/Jams
Late night consists of playing music in the Roadhouse and the Barn, unscheduled sessions, conversations, bonfires, or simply stargazing from Full Moon's gorgeous location in the heart of the Catskill Mountains, with the historic Esopus Creek running through the expansive property.
CMS's nonprofit parent, the Creative Music Foundation, is fundraising in order to offer scholarships for the workshop. For more information and online registration, please call the Full Moon Resort, 845-254-8009, email: music@fullmoonresort.com Monday-Friday, 9am-5pm (EST), or click this link to register:
Daily Schedule (subject to improvisation)
Monday, June 12
4:30 – 6:30 Orientation/cocktails
Opening orientation in the main building, hosted by Karl Berger, Ingrid Sertso and other Guiding Artists
Introducing featured artists and any special guests
Brief review of daily workshops, activities, performances
Meet and Greet with Open Bar and Hors D'Oeuvres
6:30 – 8:00 Dinner
8:15 – 10 Performance
10 - ? Jams

Tuesday, Wednesday, Thursday, June 13 – 15
8:00 – 9:30 Breakfast
9:45 - 10:05 Body Awareness
10:15 - 12:15 Master Class/Workshop
12:30 – 1:30 Lunch
1:45 - 2:00 Body Awareness
2:10 – 3:45 Master Class/Workshop
4:00 - 7:00 CMS Music Mind Practice
4:00 Basic Practice(rhythm/vocal)
5:00 Improvisers Orchestra
6:30 Listening Meditation
7:00 – 8:15 Dinner
8:30 – ? Performances/Jams
Friday, June 10
Breakfast
Farewell and Departure
Guiding Artist Biographies:
Peter Apfelbaum – sax, drums, composition
Peter Apfelbaum (born 1960) is an American avant-garde jazz pianist, tenor saxophonist, drummer and composer born in Berkeley, California. He first emerged on the jazz scene in the late 1970s, performing with Carla Bley from 1978–1982 and touring with Warren Smith and Karl Berger. Around this time Apfelbaum also studied and worked with musicians involved with the Creative Music Studio in Woodstock, New York. He graduated from Berkeley High School in 1978 in a class that included jazz pianist Benny Green.
Apfelbaum has made an impact on the avant-garde jazz and world music scene since the late 1970s and 1980s. He is a well known multi-instrumentalist and composer. His three main instruments are tenor saxophone, piano, and drums, but he has recorded and performed with a diverse array of percussion, wind, and other instruments. He has composed suites for various artists (including Don Cherry) as well as his 17-piece group The Hieroglyphics Ensemble. In 1990 Apfelbaum toured and recorded with Cherry in the group Multikulti, playing both piano and saxophone.
In the early 1990s, Apfelbaum opened shows for The Grateful Dead with The Hieroglyphics Ensemble. Apfelbaum formed The Hieroglyphics Ensemble with jazz musicians from the San Francisco Bay Area, including Jeff Cressman, Will Bernard, Norbert Stachel, Jessica Jones, Tony Jones, Peck Almond, Dezon Claiborne, Josh Jones, Jai Uttal, and many others. In 1991 his album Signs Of Life, recorded with The Hieroglyphics Ensemble, went to No. 14 on Billboard (magazine)'s "top contemporary jazz albums.
The latest incarnation of this group, The New York Hieroglyphics, released It Is Written in 2005, featuring members from the original group and New York-based musicians such as Patrice Blanchard, Dafnis Prieto, Josh Roseman, and Abdoulaye Diabate as well as Phish guitarist Trey Anastasio, for whom Peter was music director. His compositions and performances have influenced many artists active in the contemporary jazz fusion scene. His work recombines and synthesizes varieties of world music (i.e. various non-Western diasporic musical traditions) with experimental jazz idioms. Of how his music came into being, Apfelbaum writes: "My vocabulary reflects the fact that I started life as a drummer, was trained in jazz theory, blues and gospel music as a pre-teenager, became absorbed in African and Latin music as a teenager, listened to a lot of contemporary classical music, worked in R&B, reggae, blues, Latin, African, jazz, funk, Middle Eastern and Indian bands and, for as long as I can remember, I've been fascinated by how sounds can be fitted together."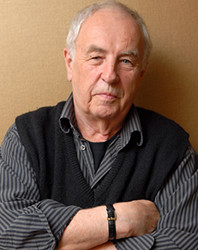 Karl Berger, PhD: Composer / Arranger / Conductor / Pianist / Vibraphonist / Consultant
Founder and director of the nonprofit Creative Music Foundation, Inc., and creative leader of the legendary Creative Music Studio, Karl Berger is dedicated to the research of the power of music and sound and the elements common to all of the world's music forms. In addition to his composing and playing, Karl is known around the world for educational presentations through workshops, concerts, recordings, and with a growing network of artists and CMS members worldwide.
Karl Berger is a six time winner of the Downbeat Critics Poll as a jazz soloist, recipient of numerous Composition Awards (commissions by the National Endowment for the Arts, the New York State Council on the Arts, the Rockefeller Foundation, European Radio and Television: WDR, NDR, SWF, Radio France, Rai Italy. SWF-Prize 1994). Professor of Composition, Artist-in- Residence at universities, schools and festivals worldwide, PhD in Music Esthetics.
Karl Berger became noted for his innovative arrangements for recordings by Jeff Buckley ("Grace"), Natalie Merchant ("Ophelia"), Better Than Ezra, The Cardigans, Jonatha Brooke, Buckethead, Bootsie Collins, The Swans, Sly + Robbie, Angelique Kidjo and others; and for his collaborations with producers Bill Laswell, Alan Douglas ("Operazone"), Peter Collins, Andy Wallace, Craig Street, Alain Mallet, Malcolm Burn, Bob Marlett and many others in Woodstock, New York City, Los Angeles, Tokyo, London, Paris and Rome.
He recorded and performed with Don Cherry, Lee Konitz, John McLaughlin, Gunther Schuller, the Mingus Epitaph Orchestra, Dave Brubeck, Ingrid Sertso, Dave Holland, Ed Blackwell, Ray Anderson, Carlos Ward, Pharoah Sanders, Blood Ulmer, Hozan Yamamoto and many others at festivals and concerts in the US, Canada, Europe, Africa, India, Phillippines, Japan, Mexico and Brazil.
His recordings and arrangements appear on the Atlantic, Axiom, Black Saint, Blue Note, Capitol, CBS, Columbia Double Moon, Douglas Music, Elektra, EMI, Enja, Island, JVC, Knitting Factory, In&Out, MCA, Milestone, Polygram, Pye, RCA, SONY, Stockholm, Vogue and others.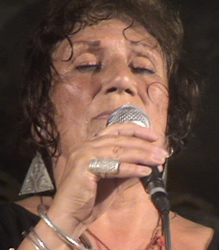 Ingrid Sertso: Vocalist, Poet
Through her work with such avant-jazz musicians as Don Cherry and Karl Berger, Ingrid Sertso established herself as a captivating, adventurous vocalist, capable of blending jazz, African, South American and other worldbeat influences into a distinctive, hypnotic sound.
Although Sertso didn't become well-known until the release of Dance with It in 1994, she spent over 20 years honing her art. During the late '60s, she lived in Europe, leading her own trios and performing with the likes of Eric Dolphy, Don Cherry, Steve Lacy, Karl Berger and Leo Wright; she also worked as a music teacher at several institutions in Europe. In 1972, she became a permanent resident of the United States and she released her first album, We Are You, on Calig Records. Over the next few years she taught, while she performed in North America and Europe with the likes of Cherry, Ed Blackwell, Lee Konitz, Sam Rivers, Jimmy Giuffre, Bob Moses, Dave Holland, Perry Robinson and Jumma Santos. In 1974, she released Kalaparush on Trio Records in Japan. It was followed in 1975 by Peace Church Concerts on India Navigation/CMC Records.
In 1975, Sertso became a faculty member at the Naropa Institute in Boulder, Colorado. She stayed there through 1975 and 1976, before moving to the Banff Centre of Fine Arts in Calgary, Canada. She had two residencies at Banff before moving to the Creative Music Studio in Woodstock, New York, where she became the co-director. While working at the Creative Music Studio, she began singing in the Art of Improvisation with Berger and David Inzenon. In 1979, she toured major European cities as a solo artists, supported by the Woodstock Workshop Orchestra. She also released an album on MPS Records that year.
During the early '80s, Sertso remained a co-director at the Creative Music Studio, while continuing to record and perform with a variety of musicians, including such mainstays as Don Cherry and Karl Berger, as well as Paulo Moura, Nana Vasconcelos, Steve Gorn, Dan Brubeck and Mike Richmond. In 1984, she performed with the Music Universe Orchestra at the Kool Festival in New York and released a duet album, Changing the Time, with Berger on Horo Records in Italy. She also toured Europe twice during this time and she also toured West Africa with Olatunji and Aiyb Dieng.
Sertso's career picked up momentum during the latter half of the '90s. She held a series of concerts and workshops in Rio de Janeiro, Brazil and she regularly tour the US on club and festival circuit. Sertso also toured Europe twice and sang solo vocals on Berger's orchestral ballet, The Bird. She was one of the co-leaders of Rhythm Changes, who released the Jazzdance album on ITM Records. During these five years, she also performed and recorded with a variety of artists, including Pauline Oliveros, Lee Konitz, Frank Luther, Anthony Cox, Leroy Jenkins, Jimmy Cobber, Linda Montano and Karl Berger.
In 1990, Sertso catapulted back into the mainstream jazz spotlight through her version "Until the Rain Comes" on Don Cherry's Multi Kulti album. Shortly afterward, she began working on a new album, but she became sidetracked by collaborating with Karl Berger and guitarist Paul Koji Shigihara. The trio blended original compositions with Sertso's poetry, improvisations and interpretations of traditional tune. Sertso also regularly performed poetry readings at the Tinker Street Cafe in Woodstock and the Knitting Factory in New York, and she also regularly played clubs along the Northeast coast. In 1994, she released her comeback album Dance with It, which earned postitive reviews. - Stephen Thomas Erlewine (All Music Guide)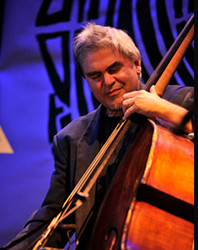 Ken Filiano: bassist
Bass player, composer, improviser, Ken FIliano has been performing throughout the world for thirty years, collaborating with leading artists in multiple genres, fusing the rich traditions of the double bass with his own seemingly limitless inventiveness. Ken leads two quartets, Quantum Entanglements, and Baudalino's Dilemma (Vinny Golia, Warren Smith, Michael TA Thompson), and is a co-leader of The Steve Adams/Ken Filiano Duo and TranceFormation (Connie Crothers, Andrea Wolper.) His extensive discography includes a solo bass CD, subvenire (NineWinds), and Dreams From a Clown Car (Clean Feed), which presents his compositions for his quartet, Quantum Entanglements (Michael Attias, Tony Malaby, Michael TA Thompson). Ken has performed and/or recorded with Karl Berger, Bobby Bradford, Anthony Braxton, Connie Crothers Quartet, Bill Dixon, Ted Dunbar, Giora Feidman Quartet, Vinny Golia ensembles, Taylor Ho Bynum, Jason Kao Hwang, Joseph Jarman, Raul Juanena, Joelle Leandre, Frank London, Tina Marsh, Warne Marsh, Dom Minasi, Barre Phillips, Roswell Rudd, ROVA Saxophone Qt., Paul Smoker, Fay Victor Ensemble, Pablo Zielger, and many more. Ken is on the teaching roster at the New School in New York, and is a guest artist lecturer at School of Visual Arts and Hunter College (New York). He teaches master classes in bass and improvisation, and has a private bass studio in Brooklyn.
About Full Moon Resort
Full Moon Resort, located one half hour west of Woodstock, New York, "the most famous small town in the world," is a year-round mountain resort located in the heart of the "Forever Wild" Catskill Forest Preserve. Dedicated to the celebration of nature, music and the arts, this one hundred-acre wonderland of mountains, fields, and streams is a world of its own.
Full Moon is an alternative to more traditional country inns and resorts - with educational, recreational and artistic workshops, weekend-long destination country weddings, cutting-edge music camps, and art exhibits all part of its magical landscape.
"Music and art in nature" is a central theme at Full Moon Resort. Music is always in the air with the Music Masters Camp series, a special mid-week interactive musical experience with world renowned artists - complete with superb dining, comfortable country inn accommodations, and camping options.
Lovingly prepared, fresh, healthy cuisine served by a friendly, professional staff is the trademark of Full Moon Catering. The menus offer a full range of possibilities – hot buffet breakfasts and lunches, down-home country barbeques …tantalizing hors d'oeuvres and formal gourmet dinners in the Tent Pavilion. Fresh, natural ingredients (often organic) are the common thread throughout.
Accommodations are charming in their simplicity, with guest rooms available in a variety of lodges – some in a simple B&B style with shared hallway baths and others with private bath options.
In all, Full Moon Resort, with its picturesque grounds, cozy guest accommodations, excellent cuisine and friendly, professional staff, sets the stage for highly memorable experiences for those attending the Music Masters Camps.
Full Moon contact info:
E-mail: music@fullmoonresort.com
Telephone: 845-254-8009
Monday-Friday, 9am-5pm (EST)
FAQ
When will my deposit be run?
 Your deposit will be run at the time of your registration.
What gear do I need?
 Bring your instrument(s) if they fit! Amps are not required. For more information, email music@fullmoonresort.com to see what will be provided.
What about beer/alcohol? CMS realizes that many of you want to consume alcoholic beverages at dinner and at night during performances and jams. To accommodate those who choose to drink, CMS has arranged to have wine/beer available at dinner and later at performances. Please help chip in by placing $5-$10/day into the bar-jar if you choose to drink alcohol. There are always complimentary alcohol-free beverages available, too.
Can I still come if I'm not a musician? 
Non-musicians are more than welcome and encouraged to attend. Vocalists and dancers are encouraged, too. We love listeners.

What skill level is required to attend?
 Classes and curriculum are developed to accommodate all ranges of playing. All classes are optional and open to everyone.
Is there an age requirement? 
No. Minors are required to submit a parent/legal guardian consent form.
Are meals included?
 Three gourmet meals a day and snacks are included in your tuition.
If I want to bring my spouse, but they don't want to attend classes, can I? 
Yes. In order to bring a non-participant, you would need to purchase a "single occupancy" package. Non-participants have access to all meals and Full Moon facilities. Additional fees may apply. Call Full Moon to discuss.
When is check in and check out?
 Check in is at 3pm on arrival day and check out is at 11am on departure day. Due to Full Moon's busy event calendar, it is generally not possible to check in early or check out late.
How do I get there?
 Please see the 'Directions/Transportation' section below.
Is there cell phone reception at camp?
 No! There is no cell phone reception at Full Moon Resort. Complimentary phone service for all calls within the U.S. is available at all times at the Inn. Also, there is complimentary Wi-Fi available throughout the facility.

How do I make my final payment? 
Your final payment will be automatically run on the credit card on file on the due date noted in your registration form. You may provide an alternative method of payment as long as it is received before the due date.

Can I take photos, video or audio recordings? 
Yes. You may be required to sign a waiver stating all recordings, footage and/or photos will be used strictly for personal use and not commercially. CMS will ask you to sign a 'release form' for the organization's use of audio and video recorded at the workshop.
What is the weather like at camp? 
Weather in the Catskills varies. In the spring, you can expect warm days (low 60s to upper 70s) and cooler nights (lower 40s to lower 60s). Fall can be cold – it can get into the 40s at night. Be prepared in case it's cold.
What do you suggest I bring with me?
 Audio recording devices
, camera, clothes & toiletries (toothbrush, soap, shampoo etc...)
 - basically what you would bring to a hotel. Tent Campers- don't forget towels, sleeping bags, tarps, etc.! 
Please bring paper, pen, music stand, staff paper, water bottles, and cash for evening bars (There is no ATM on-site.)
Do you provide equipment storage for tent campers? 
This can be arranged on an as needed basis.
Can I select my own roommate?
 Yes - if that person is signed up as well. We cannot hold a spot for someone unless they have already registered.
How does the facility select my roommate? 
Full Moon Resort selects roommates based on age and gender. You will always be placed with a same-sex roommate.
Pricing and Registration
Camp Packages are All-Inclusive!
Monday to Friday you will have access to all workshops, seminars, gourmet meals, performances, and camp activities. The only thing you have to do after signing up is get here!
All camp activities will be held at Full Moon Resort. Full Moon features an eclectic array of comfortable, rustic country-inn accommodations including simple B&B style guest rooms with shared hallway baths and guest rooms with private baths. "Primitive" campsites are also available. All accommodations are just steps away from daily music camp activities. The grounds offer one hundred acres of meadows, forests and streams providing a natural backdrop for an unforgettable, enriching experience.
Guest rooms at Full Moon do not have telephones, TV's, air conditioning or daily housekeeping service. Wi-Fi, cable television and complimentary phone service are all available at the Inn (please bring a phone card for international calls). Enjoy the spring-fed swimming pool, on-site access to the Esopus Creek, and explore the splendors of the Catskills on the nearby network of hiking trails.
Please Note: There is no cell phone reception at Full Moon Resort or in Big Indian.
Package Pricing
 Note: Prices do not include applicable taxes and do not include a $10/day beer/wine charge if you choose to drink at dinner and at evening performances.
Full Moon Resort Accommodations:
Note: Prices include Full Moon Resort lodging, food and CMS workshops. Prices do not include applicable taxes or $10/day beer/wine fee.
Registration, Payment and Cancellation Terms and Conditions:
Your decision to register for Full Moon Resort Music Masters Camps constitutes your acknowledgement of and consent to all of the registration, payment and cancellation terms and conditions listed below.
Registration and Payments:
Due to the nature of our events and strict cancellation policies, Creative Environments, LLC DBA Full Moon Resort strongly suggests purchasing travel insurance.
Full Moon contact info:
E-mail: music@fullmoonresort.com
Telephone: 845-254-8009
Monday-Friday, 9am-5pm (EST)
Directions/Transportation
CMS Workshops are held in Big Indian, New York, which is centrally located in the heart of the "Forever Wild" Catskill forest preserve.
Full Moon Resort: 
1 Valley View Road
, Big Indian, NY 12410
Directions to Full Moon Resort
By Car: 
Parking is complimentary for all participants.
From Albany and points North: 
Take the New York State Thruway (I-87) South towards New York City. 
Take Exit 19, Kingston (see below)
From New York City and Points South:
 Take the New York State Thruway (I-87) North/West to Exit 19, Kingston
After toll, merge slightly right onto Route 28 West (towards Pine Hill)
Travel approximately 30 miles on Route 28 West to Big Indian/Oliverea
Turn left onto County Route 47 (just after a brown sign on Route 28 which says Oliverea 3 miles) 
Proceed 5 miles on County Route 47 (Oliverea Road) 
You will see signs for Full Moon on the right-hand side.
By Plane:
 The closest airports to Big Indian are one hour and thirty minutes away:
 Albany International Airport and Stewart/Newburgh International Airport.
Albany International Airport (ALB):
 737 Albany Shaker Rd., 
Albany, NY 12211. 
Phone: (518) 242.2222 
http://www.albanyairport.com/
Stewart-Newburgh International Airport (SWF):
 1180 1st Street
, New Windsor, NY 12553 
Phone: (845) 564-2100 
http://www.panynj.gov/airports/stewart.html
JFK and LaGuardia Airports in New York City are approximately two and a half hours from Big Indian.

 Airport Car Services:
 Woodstock Town Car Service: (845) 679-6656
; Black Diamond Transportation: (845) 338-8426
By Bus: 
Adirondack Trailways buses run from NYC and Kingston, NY. There is a stop on Route 28 at the Big Indian post office, just five miles from Full Moon Resort. Email us to arrange a pick up from the Big Indian bus stop to Full Moon Resort.
NYC buses depart from the Port Authority bus terminal in Manhattan at 9.30am, 12.30pm and 3.30pm (EST) daily and take approximately three hours to reach Big Indian. One way fare is approximately $35, return is approximately $70.
For additional schedule information and bus stop locations, visit www.trailwaysny.com or call 1-800-776-7548
Big Indian Bus Stop Located At the Big Indian Post Office:
8279 State Route 28
Big Indian, NY 12410
*Email music@fullmoonresort.com to let us know when you will be arriving and we will be sure to have a shuttle waiting to bring you to camp!
By Train:
 The closest train station is in Rhinecliff, NY which is approximately one hour away from Big Indian.
Rhinecliff Amtrak Station (RHI): 
Hutton St. and Charles St.,
Rhinecliff, NY 12574
. Phone: 1 (800) 872-7245
. Station and Service Hours: Open 7 Days a Week: 5:30am-10:30pm
**Carpooling is suggested!