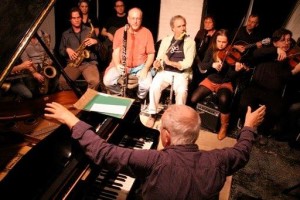 For nearly two decades, the Creative Music Studio (CMS) was considered to be the premier center for the study of creative music. Today, CMS founders Karl Berger and Ingrid Sertso offer residencies world-wide that are based on the 'Music Mind' principles originated at CMS.
Programs are tailored to complement academic studies, focusing on details instructors often don't have enough time for. Two of the pioneering approaches CMS developed include "Music Universe," an inclusive, non-stylistic appreciation of the commonality of musical languages worldwide, and "Music Mind," a variety of ways to deepen the experience of playing and listening to music by focusing on attention, expression and communication. The goal is to reach new levels of sensitivity towards details of timing, dynamics, tuning, sense of space, and towards realizing a spontaneous, intuitive mindset where one plays by heart.
"Music Mind workshops bring together the best, most insightful and instructive elements of CMS," says John Zorn, legendary composer and saxophonist. "That Karl and Ingrid are willing to share their decades of insight and experience is a gift to all and should not be missed."
Some of the more subtle aspects of music-making are experienced during residencies. These include concepts not always taught in academic settings, including:
Harmonizing sound in an improvisational forum
Rhythmic training with and without instruments utilizing the legendary GaMaLaTaKi method
Fine tuning a sensitivity to each sound, hearing and feeling that every note a person plays contains all other notes
Experiencing playing every note different every time, so that no sound is ever replicated
A detailed feeling for infinite dynamic possibilities
Blending our sounds and losing oneself into a collective sound
Feeling and playing naturally and spontaneously playing by heart, not head
Playing the rests, focusing on silence and not overplaying, allowing musicians and listeners to 'dance in their head' and 'play along.'