Another Ear-Bending Experience
September 29, 2014
With autumn colors blazing the hills that cradle Full Moon Resort in Big Indian, NY, the CMS Fall 2014 Workshop began auspiciously. As usual, CMS co-founder Karl Berger opened the session, explaining the origins of CMS and talking about the need for creative space is greater than ever. "Who would have thought my Improvisers Orchestra would play more than a few times? Last week we played our 75th concert in three years," he said. "That demonstrates the need for a community of musicians to come together and play; that's what we're doing here at CMS workshops.' After each person introduced themselves, a cocktail party and a delicious dinner, there was performance featuring Karl on piano and vibes, Ingrid Sertso (vocals), Ken Filiano (bass), Kirk Knuffke (cornet), Harvey Sorgen (drums) and Omar Tamez (guitar). Often as bright as the spectacular autumnal trees, the music resounded in the room and echoed throughout the hills in the quiet early fall night, offering a wonderful warm up for the week to come.
Tuesday, September 30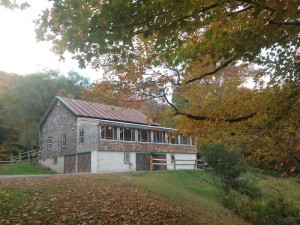 As is customary at all CMS workshops, the day started out with Basic Practice. Body Awareness, lead by Savia Berger, awakened the body, getting it ready for a day of music making. As a dancer and Pilates instructor, Savia knows a thing or two about bodies. Following her, Ingrid Sertso took the group through vocal exercises, emphasizing 'your natural voice; don't try to sing.' Karl Berger was next, introducing the group to the CMS's rhythm practice, the gamalataki system, by explaining that all the world's rhythms are additive and can be organized in twos and threes, taki's and gamalas. He took the group through the practice, sometimes tossing in koans such as,
Singing and voice is a tool to connect with your spontaneous mind
Every sound contains every other sound
What you don't play is more important than what you play – the silences leave room for the listener
Thinking is too slow for music.
And so on in Karl's impish style.
This CMS Workshop features a new format: basic practice in the morning followed by a 90 minute session with the day's Guiding Artist, and after lunch another two and a half hour session with the same artist. Today's special artist was drummer/composer John Hollenbeck. John realized the group was ready to play and got right into it, taking them through a variety of exercises designed to introduce them musically to each other, encouraging them to keenly listen to each other. "Try to listen to the group, not yourself. What you play will be more beautiful." He took them through another exercise designed for rhythmic precision and concentration. "Concentration goes right into your sound. Think about Miles or Coltrane. Think about your sound, get close to finding a sound you like." John shared a story about rehearsing with a band, not really concentrating, and going off and staring at his hands, wondering about the invention of cymbals, basically talking to himself and not really playing or listening. "These were all interesting things for my mind, just not for that moment in performance," he said to laughs. He had to learn how to practice so he could be fully ready to perform. "My mind loves getting in the way. I had to find a way to practice mindfully, to be more engaged." He shared some of those practices with the group and then it was time for a well-deserved lunch.
After another great meal, John got the group together, teaching them an unrecorded tune, 'Forced Empathy,' by having them sing it first, something Karl discussed in the morning session relating to teaching Indian classical music. Based on a rhythm John demonstrated on his drums,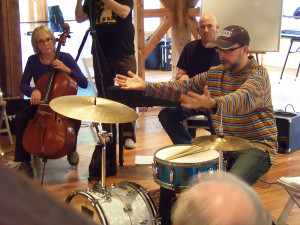 it's an exercise in precision and discipline. Just as the group was catching on, he tripled the time, making economy and precision even more critical. As the participants began to play the tune on their instruments, John said, "How can you find your place in this sonic palette? By playing your sound, your voice, your timbre, your range. Be distinct." The music builds additively, with different participants joining in one at a time, playing off each other's phrases, interweaving them behind individual improvisations. "It's exciting for me as a listener when I don't know what's going to happen next.'
John provided a perfect foundation for the first of three Karl Berger Improvisers Orchestra workshops. As always, he explains: "Play the whole group, the whole orchestra, feel the sound and stay with it. Play what you feel." And, "You can harmonize any sound with dynamics and pitch, tuning." After taking the group through a few of these harmonizing exercises, he taught them a Turkish tune. "I want you to learn it by heart because that way it's in your heart and not on paper." The rest of the 90 minute workshop was spent playing the tune, playing the orchestra, a thrilling first time experience for many of the participants.
The 'listen to the sound disappearing' meditation ended the day. "We usually hear sounds coming at us, rarely sounds disappearing," said Karl.
The evening's performance was truly history making, with many of the Guiding Artists playing together for the first time: John Hollenbeck, Kirk Knuffke, Karl Berger, Ingrid Sertso, Ken Filiano, Kenny Wessel, Omar Tamez and tabla player, Badal Roy. After a stunning set that sounded like an acoustic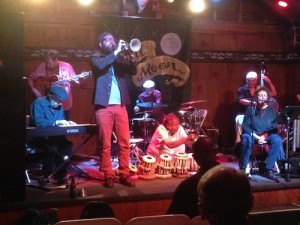 version of electric Miles Davis, Kirk dropped out and was replaced by Steve Gorn, giving the group a very different feel. Musically, it was a concert reminiscent of the old CMS with a real world music groove and feel. And, as in the past, we're sure some new musical bonds and partnerships were formed.
After the performance, the participants were too worn out, too exhausted to jam, hoping to rest up enough for another day.
On a personal note, I want to share a funny story. At dinner, John, Kirk and I were discussing music and not surprisingly Sun Ra came up. I shared with them a story of donning a suit and crashing someone's wedding 20+ years ago where the Arkestra was the band, recalling a half hour long 'Hava Nagila.' John wanted to know whose wedding it was and since I didn't know I emailed the friend I crashed with. Later, just before the evening performance I was having a conversation with one of the participants, Bob Bresnan, and again Sun Ra came up. I told him about seeing the Arkestra on one of those 'booze cruises' around Manhattan and he said he could top that: "I got the Arkestra to play at my wedding!" I nearly fell down, "I crashed your wedding!." Later I checked my email and my friend wrote back, "Robert Bresnan." Coincidence?
Wednesday October 1
A rainy day has not clouded over the workshop. After a night of splendid music participants were eager to get going, immersing themselves in the CMS basic practice: body awareness; vocal training; and rhythm training. "You can't rely on the drummer to keep time," warned Karl. "We all need to play from our own sense of time, feel our time."
The workshop with Indian music masters Badal Roy and Steve Gorn followed. Before teaching the group to sing Indian scales, Steve gave some introductory remarks. "The universe hangs on sound," as he's said many times. "Our job is to make the right sound, in the right place, at the right time." He went on to explain a Japanese teaching about music and art integrating and synchronizing a human being. And, when that person plays with another, they synchronize each other. And, ultimately in the larger sense, it can synchronize everyone with the planet and the land. "Every note we play can awaken that connection," he intones.
As he started to teach the morning raga, Steve encouraged the group: "Your own voice is your best voice. Participation is more important than virtuosity." He turned on a digital drone machine, making the traditional tambur sound, and through call and response lead the group for thirty minutes singing a lovely morning raga. "The drone gives us the bottom, let's us settle in and relax, helps us listen better. Its resonating helps us find the pitches to play or sing." This was followed with Badal giving a demonstration on the tabla, showing its syllables and language.
The afternoon session was a deep dive into Rag Yamin. As is traditional, Steve taught the scales and the rag by asking everyone to sing it, slowly adding new phrases, working the group over and over. "The ragas are like anchors, helping you improvise by providing continuity and form," prodded Gorn. "There are three facets to them: on the outer level is its name and scale; the inner level is the melodic contours and grammar; and the third facet – the secret part – offers information on intonation, tuning and timing that moves you in mysterious ways."
After playing the rag together and really working it, Steve and Badal invited Kenny Wessel to discuss how takes the melodic information from ragas and uses them harmonically as a soloist and an accompanist. He discussed how the rags helped him think of music 'in shapes that have their own internal logic' and offered, "Because they're not concerned with harmony, ragas have very rich melodic and rhythmic content." He demonstrated the ways that Indian music is about 'embellishment, shapes, colors, sliding notes and ornamentation," and talked about using it systematically to work this language into his practice, and ultimately in performance. Steve (on soprano sax) and Kenny played a duet that twisted and varied the raga, again showing the participants all the ways they could employ this musical language.
Karl started the Improvisers Orchestra by discussing overtone scales and a way blue notes may have originated. Realizing the participants were eager to put down pens and pick up instruments, Karl introduced them to a few tunes that they played together. As is usual after a couple of days at the workshop, the group came together faster, played together more fluidly, and began to speak a shared musical language.
After a sumptuous meal, we were treated to another history-making concert, again featuring artists who hadn't played together before. It started small and quiet and built from there. Badal and Steve played a duet, less classical Indian music and looser than a traditional raga form, and added Kenny Wessel, who picked up from his remarks in the workshop and played his guitar more like a sitar, sliding and bending notes in Indian scales. Omar Tamez and Ken Filiano joined next, with Omar adding textures with his guitar, using it as a percussion instrument and Ken employing some of the raga scales learned earlier in the day. Steve switched from Indian flutes to
soprano sax and invited tomorrow's Guiding Artist, Marty Ehrlich, to join. Sitting on the stage at first, Marty's clarinet, playing something between Indian and eastern European scales, complemented Steve's sax, entwining, playing off each other. Karl, Ingrid, Kirk and John Hollenbeck were added, creating a swirling, tense and intense sound. It was an honor to be in the Roadhouse hearing such wonderful music.
After the main performance Kirk led the participants through a 'Conduction,' the Butch Morris method of improvisational conducting that Kirk taught in a workshop last year. It took a while for the group to get it but once they did, Kirk dropped out and the group conducted itself, featuring beautiful ensemble and solo playing and vocals. It ended on a vamp with CMS alum Bill Ylytalo introducing members of the band – and just about everyone else in the Roadhouse – with an uproarious schtick appropriately reminiscent of borscht belt Catskills stand up comedy. A fitting end to a long day.
Thursday, October 2
In this Fall 2014 workshop, many of the participants have expressed great satisfaction with the morning movement/body awareness and vocal classes, with several saying it's already had profound changes in their music: how they breathe, how they hold their instrument, how they 'sing' through it. A highlight for many is singing with Ingrid Sertso, finding new freedom in voice and breath.
As is typical, Karl led the morning rhythm class, playfully interjecting koans such as: " There are no downbeats, just upbeats;' 'In music we lose self consciousness and join as one mind;' Beat for beat attention is a practice' and 'Every note we play is an offering to the world.' These pepper the gamalataki training. "We do the inspirational part in class but then it's time to get to work, and practice mindfully." He went on to describe how and when people can practice rhythm: walking down the road in fives; listening to the car window wipers in seven, etc. It was a way to bring the theoretical back to daily practice anyone can do anywhere anytime.
Marty Ehrlich discussed his concept of 'comprovisation,' composed improvisation not dissimilar to what Karl does with the Improvisers Orchestra or what Butch Morris did. He explained using a tune he composed based on west African rhythms, "Agbeka," working the group through it many times, in many variations. Ken Filiano and John Hollenbeck joined in, too. "When you come in listen, breathe, be open. Think about using contrast as an expressive device. Think about dynamics. Think then play, just don't think too much," he suggested, continuing, "It's always about emotion and also about the mind; listen to the totality of what's going on musically."
After some more playing and wonderful stories about growing up in St. Louis and getting involved with the Black Artists Group and Julius Hemphill, Marty shared, "Being a collective improviser is different than being a soloist. As Albert Ayler said, 'It's not about the notes but the feelings.'" He went on to demonstrate this, using the orchestra as a backdrop to his soloing.
Marty shared a hilarious story about Anthony Braxton encouraging his group to 'bring the audience into the music by playing softly,' only to see this theory fail miserably before a very loud party at a front table at a club where they were playing. Braxton tried to coax them in with soft notes, eventually giving it up, rolling out his mammoth contrabass clarinet, and literally blowing away the loud party of non-listeners. Still, he remembered Braxton's advice: "Remember to play the softer softs." He also discussed the importance of creating space around notes, a theme continually echoed by CMS Guiding Artists.
Marty took the group through more of his compositions, deciding to stitch them together to create a suite of music for the orchestra to perform in concert tonight. One of the tunes is based on eastern European Jewish modes. He said it was influenced by a long out of print book, "Harmonizing the Jewish Modes," that was particularly influential to John Coltrane. "In liturgical music – Jewish, Muslim, Christian, it doesn't matter – solos are like preaching. Think of music as words; get a narrative going," he said, talking about his time playing gospel infused music with Julius Hemphill. "Ultimately, making music is about imitating the human voice on our instrument, our voice." At the end of the Jewish piece, he got the orchestra to shout a hearty, "Oy."
Karl's last Improvisers Orchestra session picked up just where Marty left off: talking about music as language, sounds as 'words' and the importance of silence to help make the sounds and voicings distinct. Here's just a few more koans: "Silence around the notes is as important as the sounds;" "Let's play the silence and think of the sounds as frames;" "Make meaningful silence to create balance;" "Music needs space in which to travel. It communicates through space around notes;" and finally, " Like any language music only works with pauses between words and sounds." He took the orchestra through some round-robin type exercises, not unlike Marty's, to help them find space between notes and become more sensitive to silence. And, when the Orchestra started playing a recent KB composition, "Omi Theme," the sense of spaciousness and fluidity grew. The participants had really learned that playing the silence is just as important as the sounds, which would be music to the ears of one of the Creative Music Foundation's original board members: John Cage.
This evening's concert was another history-making event, with premieres of a trio, quartet and orchestra. The night opened with a trio of Marty, John Hollenbeck and Ken Filiano who played daring, driving music.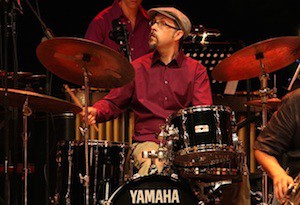 Other than this week, Ken and John hadn't played together since working on a puppet show at LaMama in the late 1990s; Marty and John had never played together; John and Karl had never played together. Tonight they all did. Karl turned the trio into a quartet and the music went in a different and much quieter direction. After a brief pause, we were treated to the world premiere of the Marty Ehrlich CMS Orchestra. Conducted by Marty who also composed all the tunes, the group played what it worked on in the workshop and everything gelled. Space between notes and players; deft uses of dynamics and silences; ear opening improvisations…everything they had been working on all week culminating in a gorgeous set of music. Kart whispered, "I think we're making an album here tonight.' Hopefully all the technology worked and our recording engineer, Max Siegel, found the sound.
It was another special, thrilling, deeply immersive week of music here in the Western Catskills still ablaze with fall colors. Thanks to our wonderful group of generous Guiding Artists; Amy Carpenter and everyone at Full Moon, especially the chefs; our tireless videographer Don Mount; Karl Berger and Ingrid Sertso for their vision, inspiration and wisdom.
Rob Saffer, Executive Director, Creative Music Foundation, 10-2-2014
Testimonials from CMS Fall 2014 Participants
"CMS always gives a chance to see what is old in a new light. It's kind of like a spiral going upward, returning to familiar places over and over, but at an ever higher level, a higher perspective."
"It is an environment in which the process of opening one's self up and allowing the music to come out is paramount. The process of getting out of one's own way—removing or negating fears, doubts, bad habits, and plain-old thinking—is the greatest education."
"I loved all of the workshops. But the number-one thing for me is to be in an environment where my sole purpose is to play music. The little bits of impromptu sessions before and after the workshops are great."
"CMS provides an environment in which anyone can discover whatever music is within and discover the thoroughly natural process of letting it come out."
"The bottom line is, I really don't know how it could have been better. It just felt perfect to me. I just would have liked more. I am deeply grateful to all who are responsible for keeping CMS alive."
"I learned how to listen better and how to listen for the music instead of my ego trying to make something happen. At the Jamey Aebersold camp, I had a lot of people telling me things like, "You can't play those voicings, play it this way, etc." I left this workshop inspired to play and inspired to trust the music instead of listening to criticism from the jazz police. It was the best musical experience I have had. I learned a lot on an emotional level, not just an intellectual level, which is difficult to put into words. So it's hard to say more."
"I thought the most recent workshop was outstanding, and I whole-heartedly endorse the new format of having fewer guiding artists and getting more time with them. John's and Marty's sessions were particularly good, and I loved having the opportunity to work with them on some of their compositions. I also got a lot out of the day with Steve and Badal (esp. the time Kenny Wessel spent giving practical tips on how to adapt and incorporate some of the concepts Steve and Badal had been discussing). It was also great having Kenny, Kirk, Ken and Omar around to participate in the performances and help with the workshops. And, as always, the Improvisers Orchestra sessions were outstanding and the morning sessions with Karl, Ingrid and Savia were excellent. Things really seemed to be firing on all cylinders this time."
"I learned to trust my musical instincts more."
"I loved seeing how great musicians approach new music, and playing alongside them is very educational."
"You create a welcoming tone for us. You (the CMS folks) and the other guiding artists are open and available. I never am made to feel "one step down." You attract fine musicians as teachers who are also fine human beings.
"I learned the value of listening in collaborative composition, a most wonderful experience, all around."
"I loved it all. I was really pleasantly surprised by the whole event. The location was beautiful and the food was great. All of the artists were great. It was great to be able to have informal conversations with them at meals. The other participants were all great. Karl an Ingrid were absolutely wonderful."
"I can't wait for the Spring 2015 session!"
"I loved the workshop where the guiding artist introduced that odd rhythm, and then little by little, it came together. Rules were presented, and then we were free to break them."
"I got a deeper look at the odd meter stuff that I seldom come across."
"The vibe was probably the best thing. It always felt positive."
"It's a workshop where you get to learn from some really amazing musicians in a really beautiful environment along with like-minded people that you get to know, all with a really positive/engaging vibe. Zero competitiveness among participants. It was an amazing learning experience. Thanks for everything!"
"I learned to think in terms of the whole ensemble as a unit. I enjoyed the enthusiasm of all the participants, as well as the instructors."