"In The Spirit of Don Cherry" to be Performed by the CMS Improvisers Octet Led by Karl Berger
Saturday, September 2, 2017, 8:00pm at Maverick Concerts, Woodstock, NY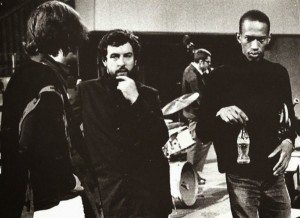 The revamped Creative Music Studio™ will present In the Spirit of Don Cherry at Woodstock's legendary Maverick Concerts, Saturday, September 2, 2017, at 8:00. Performed by the all-star CMS™ Improvisers Octet led by Karl Berger, 'In the Spirit of Don Cherry' will explore Cherry's compositions as well as music inspired by him and will use those themes as launching pads for exciting improvisation that weave together jazz, world and contemporary music. Tickets are $5 – $40 and available at the Maverick Concert website.
Six members of the CMS Improvisers Octet played with Cherry: Karl Berger (piano, vibes, leader), Bob Stewart (tuba), Steven Bernstein (trumpet), Peter Apfelbaum (reeds, percussion), Ingrid Sertso (vocals), Graham Haynes (cornet); along with Woodstock's Tani Tabbal (drums), and Adam Lane (bass).
Noted for his long association with saxophonist Ornette Coleman, which began in the late 1950s, Don Cherry became a pioneer of world-fusion music in the 1960s. During this period, he incorporated various ethnic styles into his playing and composing. Cherry, who died in 1995, was essential to the creation and development of the Creative Music Studio he inspired many of its methodologies, taught many CMS workshops and founded his legendary group, Codona, at CMS. A suite of his is included in CMS Archive Project Selections Vol. 2, released in 2015.
"This all-star octet of improvisers will play Don Cherry's compositions and songs, but is not solely a repertory ensemble," said Karl Berger, CMS' artistic director. "Don was unique in opening the way to interpreting music from anywhere in the world in very personal and inspiring ways. His music is always great fun to play and to listen to. We feel his presence, loud and clear; Don's music speaks to us and everyone in engaging and positive ways. His amazing spirit lives on in this ensemble and in the multitude of musical expressions emerging at the Creative Music Studio."
The octet was founded 12 years ago and is comprised of players who collaborated with Cherry from the 1960s through the 1990s. Karl Berger joined Don's quintet in 1965 and played on many of Don's breakthrough recordings such as "Symphony for Improvisers." Peter Apfelbaum was Don's music director in the 90s; he and Steven Bernstein played frequently with Don then. Ingrid Sertso performed with Don on many occasions, including on his album, "Multi-Kulti," and on her album, "Dance with It"; she also wrote lyrics to several of Don's songs, including "Art Deco." Bob Stewart and Graham Haynes played extensively with Don, often internationally.
 About CMS: The Creative Music Studio™ engages musicians and listeners from all backgrounds to deepen and broaden their musical sensitivity, expression and understanding through workshops, recordings and concerts worldwide.  The Creative Music Studio™ and CMS ™ are trademarks of the Creative Music Foundation, Inc., a 501(c)3 nonprofit corporation founded in 1971.