Noted Composer Joined by Pianist Marilyn Crispell, Cellist Leila Bordreuil & Improviser Miguel Frasconi
Greenwich House Music School
Saturday, April 8, 2017, 8:00 PM
The revamped Creative Music Studio™ will present an evening with the pioneering composer and electronic musician Richard Teitelbaum in a rare NYC performance on Saturday, April 8 at Greenwich House Music School, 46 Barrow Street (off Bleecker Street) in Greenwich Village at 8:00 PM. Tickets, available at the door, are $20.
The CMS™ concert will feature an extraordinary combination of improvisers playing together as a quartet for the first time. Several pieces will be debuted, providing the group ample room to improvise in duos, trios and as a quartet. Pianist Marilyn Crispell has performed with Teitelbaum for four decades, the two having first met at the Creative Music Studio in Woodstock in the 1970s. Glass instrument player Miguel Frasconi studied with Teitelbaum at Toronto's York University, also in the 1970s, and cellist Leila Bordreuil studied and worked with Teitelbaum at Bard College. At Greenwich House Music School the quartet will explore and expand the sonic possibilities of electronic and acoustic improvisation.
Underwriting support for this performance is provided by the Robert D. Bielecki Foundation.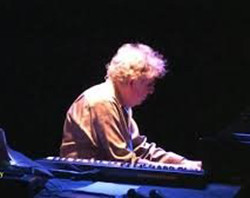 Richard Teitelbaum was born in NYC in 1939. After graduating from Haverford College, he went on to get a Master of Music degree from Yale in 1964. Teitelbaum studied with composers Luigi Nono and Goffredo Petrassi in Italy on a Fullbright scholarship, after which he brought the first Moog synthesizer to Europe. Teitelbaum performed hundreds of concerts with it, and co-founded the pioneering live electronic music group Musica Elettronica Viva with Frederic Rzewski and Alvin Curran. This group was also instrumental at the Creative Music Studio where all three composers taught and worked. Teitelbaum's opera, Golem, was performed at the Ars Electronica Festival in Linz, Austria (1991), and Teitlebaum himself has performed throughout the U.S., Japan and Europe. His music is heard on Cantaur, Hat Hut, Tzadik, and other labels. Besides making music and working with interactive computer systems, Teitelbaum has taught electronic music and composition at New York's Vassar College, and Bard College where he has also been Director of the Electronic Music Studio. He was also instrumental in the development of the Creative Music Studio, having taught a variety of master classes on experimental and electronic music, further expanding the palette of sounds and musical experiences CMS has offered.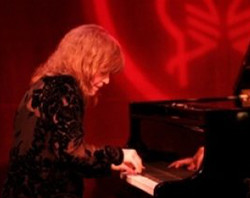 Marilyn Crispell has been a composer and performer of contemporary improvised music since 1978. For ten years, she was a member of the Anthony Braxton Quartet and the Reggie Workman Ensemble, and she has performed and recorded extensively as a soloist and with players on the American and international jazz scene, also working with dancers, poets, film-makers and visual artists, and teaching workshops in improvisation. She has been the recipient of three New York Foundation for the Arts Fellowship grants, a Guggenheim Fellowship, and a Mary Flagler Cary Charitable Trust composition commission. She has been deeply involved in the Creative Music Studio since she first came there as a student in the 1970s. Her debut recording with Anthony Braxton kicks off CMS Archive Selection Series Vol. 2.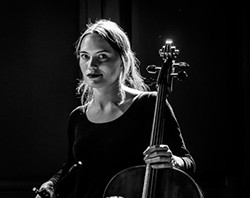 Leila Bordreuil is a Brooklyn based cellist and composer from Aix-en-Provence, France. She works in the realm of Noise music, improvisation, New Music and sound-art. Her cello playing is often improvised, and mainly focuses on texture variations and a collage of phantom overtones and pitched utterances. Through an original vocabulary of extended techniques, preparations, and imaginative amplification methods, her instrument is used as an abstract resonant body to challenge conventional cello practice. Her composed works draw from a similar texture-based musical aesthetic, but also focus on the relationship between sound and space. In her site-specific electro-acoustic compositions, architecture is the foundation of the piece and musicality arises from an organized spacialization of sound. Leila's collaborative projects include duos with Michael Foster and Tamio Shiraishi, a trio with Sean Ali and Joanna Mattrey, and the no-wave band "Signal Break". She has performed at the Whitney Museum, The Kitchen, The Stone, MoMA PS1, Issue Project Room, All Ears Festival (Oslo, NO), Cafe Oto (London, UK), Ausland (Berlin, DE), Ftarri (Tokyo, JP) , and many basements across the U.S.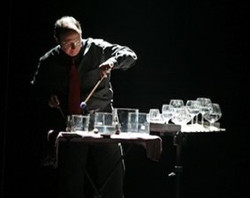 Miguel Frasconi is a composer and improviser specializing in the relationship between acoustic objects and musical form. His instrumentarium includes glass objects, analog electronics, laptop, and hybrid constructions of his own design. He has composed chamber music, operas, and numerous dance scores. His opera, Hand To Mouth, was premiered in northern California in 2015, and a new short opera will be premiered at Symphony Space, NYC, in May 2017, as part of Experiments in Opera's spring season. Miguel has worked closely with composers John Cage, James Tenney, Pauline Oliveros, Morton Subotnick, and has collaborated with many choreographers, including Alonzo King and modern dance pioneer Anna Halprin. In September 2012 the New York Times called his CAGE100 Festival @ The Stone "one of the best observances of John Cage's 100th birthday" and included performances by his Noisy Toy Piano Orchestra and John Cage Variety Show Big Band. Miguel's music has been released on New Albion, Porter Records, clang.cl, and recordings of his string quartets will soon be released on the Tzadik label.
Greenwich House Music School (GHMS) has been providing high-quality music education to the people of New York City since 1905. The school has occupied its current location since 1914 and has played an important part in the careers and lives of tens of thousands of students. The distinguished faculty works to ensure students of all ages have the opportunity to experience music through classes and performances, and being at the center of New York's downtown arts scene allows for an array of renowned artists to become active at the school. Past guests have included John Cage, Jorma Kaukonen, Henry Cowell, Edgar Varèse, Morton Subotnick, Joan La Barbara and Meredith Monk. The school continues to serve the musical needs of students of all ages with private lessons, group classes, ensembles and regular student and faculty recitals. In addition to educating its students, GHMS serves the community with a wide spectrum of concerts and readings in its Renee Weiler Concert Hall, hosts education workshops and meetings for local civic and cultural organizations, and provides rehearsal and performance space for local musicians.
The Creative Music Studio engages musicians and listeners from all backgrounds and traditions, deepening and transforming their personal experience, understanding and expression of music as a universal language by illuminating its shared elements in workshops, residencies, performances, recording and archival projects throughout the U.S. and around the globe. The Creative Music Studio™ and CMS ™ are trademarks of the Creative Music Foundation, Inc., a 501(c)3 nonprofit corporation founded in 1971 that receives funding from the New York State Council on the Arts (NYSCA), among others. www.creativemusic.org