Ears Split, Hearts Open, Minds Blown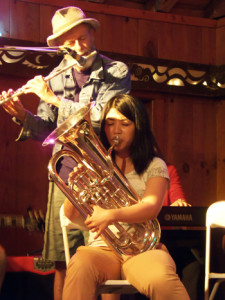 The Creative Music Studio's Spring 2014 workshop took place between June 9 – 13 at the Full Moon Resort, nestled streamside in a valley 30 minutes west of Woodstock, NY. Twenty-two participants, from Berlin to Warsaw, Tokyo to Los Angeles, interacted day and night with a dozen CMS Guiding Artists, including Henry Threadgill, Joe Lovano, Tyshawn Sorey, Marilyn Crispell, Peter Apfelbaum, Warren Smith, Judi Silvano, and of course Creative Music Foundation co-founders Karl Berger and Ingrid Sertso. Intense workshops and breathtaking concerts created a nurturing, inspiring environment.
The following offers a short, daily recap:
Monday, June 9
Despite gloomy, un-Spring-like weather the Creative Music Studio Spring 2014 Workshop is underway. Musicians - expert to novice - from New York to Los Angeles, Berlin to Warsaw, Tokyo to Washington, DC, are eager to soak up music and wisdom from Guiding Artists. During orientation CMS co-founder and artistic director Karl Berger talked about music being the universal language of spirituality; in just a few notes of the concert after dinner everyone knew what Karl was talking about. Peter Apfelbaum led the group - Warren Smith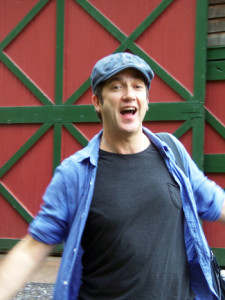 on drums, Karl on keys and vibes, Ingrid Sertso on voice and John Menegon on bass - through a variety of improvisations, eventually landing on a Karl Berger tune, followed by Monk's "Bemsha Swing," a tune he played many times during his tenure playing with Don Cherry. Peter invited participants on the stage and the concert performance segued organically into a raucous jam session; musicians who had never met learning to speak that universal language, learning to listen, and learning to trust each other musically.
Tuesday, June 10
After a delectable breakfast, the group of 23 participants walked to the large, timber frame barn and began a half hour of body awareness led by Savia Berger. Having grown up with musician parents on the CMS Woodstock campus, Savia understands the physical demands of being a musician and led the group through gentle movements to warm up prior to playing. This was followed by a vocal class led by CMS co-founder Ingrid Sertso. Explaining that the voice is the 'first instrument' as well as the importance of breathing not only for singing but for all instruments, she then led the group through a series of vocal exercises and song. Karl Berger took the next slot, teaching the group CMS's legendary 'gamalataki' rhythm practice. "Think of rhythm in an additive way," he said. "It's always moving, like a train. If you don't catch it the first time, just wait and another train, another cycle, will come." The group then spent 30 minutes learning and practicing the method, which breaks music down into twos (taki) and threes (gamala). Even 80 year old master drummer Warren Smith practiced the method. "That's because it's a lifelong practice," summarized Berger.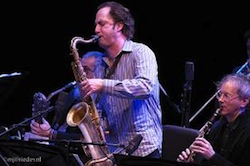 Peter Apfelbaum's workshop focused a lot on the importance of rhythm. "Rhythm is important to everyone, not just musicians. It's about timing, how we arrange our lives, how we walk and speak." He took the group through a number of exercises and then passed out music for them to play, ending with Don Cherry's "Togo" (which he said Don also called 'Guinea.') Peter also challenged the group to create interesting, arresting solos using only a few notes. "If you have only three or four notes to use, the structure might free you up."
Joe Lovano and Judi Silvano stressed the importance of feeling in one's music. "You can play all the notes you want. What people will hear is feeling," said Joe. The two of them, alternating naturally between themselves, played a duet that demonstrated not only deep feeling and sympathy, but also how to collaborate. Joe: "You sound is your approach to music." Judi, not missing a beat: "And it needs to change when you play with others; your sound needs to change over time.' The two then played duets with the participants, each of them alternating around the room. After that musical introduction and connection to the participants, Judi and Joe led the group through a variety of compositions and improvisations.
Surveys from the 2013 workshops were clear: the participants wanted more time playing in the improviser's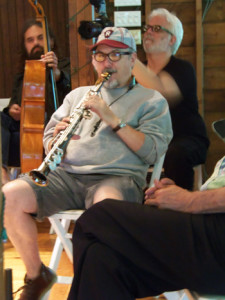 orchestra. So, this workshop, we decided to offer it each of the three days, from 5 - 6:30, a way to practice and synthesize what's learned during the day. And, play with a large orchestra. Karl explained that the main principal is to 'harmonize together, to forget what your playing and play the sound - you are the sound, you are the orchestra.' After a brief tuning in exercise where everyone sings a note while Karl plays piano, alternating the note's colors, the orchestra played for well over an hour. A highlight was a Japanese butoh dancer and how she became just another 'instrument' in the orchestra, responding to the music while the orchestra and Karl especially was inspired by her movements and energy.
After another fresh, sumptuous meal, everyone walked to the Roadhouse for concerts and jams. Tonight's concert was historic: Joe, Judi, Karl, Ingrid, Ken Filiano on bass, Warren Smith on drums, and participant Dave Brandon Ross on guitar. A free improvisation turned into the traditional 'Centerpiece," followed by Lovano's 'Blackwell's Message' and Judi's "Ride the Zephyr' before a stunning rendition of 'Body and Soul,' mostly showcasing Karl and Joe. An Ornette Coleman tune Joe is rehearsing for this week's tribute to Ornette in Brooklyn ended the set, and allowing the participants to come on stage and play. There was a huge difference in tonight's jam vs. last night, before any of the workshops had taken place. People were listening more, playing less, using a greater range of dynamics…all things we heard throughout the long, productive, creative day.
Wednesday, June 11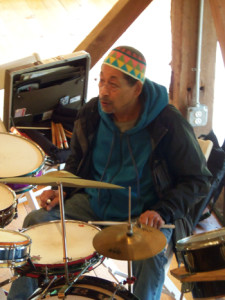 After body work and CMS's daily basic (vocal and rhythm) practice, the first workshop with master percussionist Warren Smith, who's done just about everything in music, from Broadway show tunes to playing in Max Roach's percussion ensemble and traveling the country with Harry Partch! As rain started to drop on the barn's metal roof, Warren invited it into an improvisation exercise. "Absorb the atmosphere. Listen, then play." Despite the complexity of an exercise using Partch's music, Warren said, "What you play should be fun and enjoyable. When you find what you like, do it, and eventually it will become part of your vocabulary, your style.' He ended his workshop with some advice: "The key to improvisation is to not listen to yourself, but to feel yourself and listen to others."
Henry Threadgill started his workshop by asking the participants what they wanted out of it and interacted with the group a bit. He stressed the importance of deeply investigating and reinvestigating musical ideas and vocabulary. He challenged the group to question everything and to look at musical challenges from a variety of facets. "Are you interested in communicating an idea, thought or feeling? And, don't forget punctuation - ideas need forms.' Then Henry broke out charts and the real challenge began. About half the participants were familiar with Henry's music, and half not at all. Henry dug in, working for a bit with the guitars, then with reeds, then horns, basses, drummers, closely working with all the participants on phrasing, rhythm and how to approach his compositions. After lots of rigorous work, the ensemble finally started playing the tune fluidly which is when Henry stopped them and introduced a new challenge, another piece of music. The same detailed, thorough work with groupings of musicians followed, Henry singing lines, and dancing around the participants while energetically conducting and encouraging the group. At one point, when he couldn't quite explain something, he left the barn, got his alto and came back to demonstrate what he meant by playing it, and then playing with the participants a bit more. After two and a half hours, many participants were tired. Henry seemed like he could go on for many hours more.
Henry's workshop was a great warm up for the second day of the improvisers orchestra, conducted by Karl Berger. Karl taught the group one of his tunes, explaining how the notes must crescendo and inflect up, rather than down, and really working the group on that light sound. He spent the next 90 minutes running the orchestra through this and a few other pieces, working with them on dynamics and harmonizing with each other.
The Buddhist listening meditation ended a long day and provided a nice segue into another delicious meal and an evening concert that started with Ingrid Sertso's poetry and Michiru Inoue's remarkable Butoh dancing. This tough act to follow was followed by Karl and Ingrid, Ken Filiano on bass, Warren Smith on drums, and guest artists Omar Tamez on guitar and Harvey Sorgen on bass.
As always, jams followed, tonight led by Omar and Ken, dividing the participants into smaller groupings so individuals have a chance to stand out and solo a bit more.
The only negative: it's cold and rainy.
Thursday, June 12
Despite another day of rain, the music and playing Thursday was light and airy. After body work and basic rhythm and vocal practice, Guiding Artist and former CMS participant Marilyn Crispell led the first workshop. She said she came to some of her musical ideas as a girl, walking past a music school and hearing all kinds of different music coming out its windows, and hearing it all come together, "like an Ives composition." From that experience, and her work with Anthony Braxton, she described using collage as a compositional method. Marilyn also talked about what she calls musical "cells, or the DNA of music - simple ideas motifs" and discussed working with opposites: sound/silence; loud/soft; long/short. She then took the group through some improvising exercises she learned from Wadada Leo Smith, a former (and perhaps future?) CMS Guiding Artist, as well as some of her own rhythmic clapping exercises that inspired the participants and especially Michiru, the Butoh dancer from Japan. One word best describes the class: fun.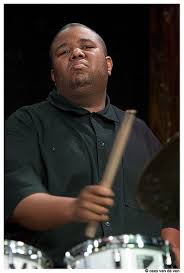 Drummer, composer, bandleader, conductor and trombonist Tyshawn Sorey led the afternoon workshop. His musical theory, simply stated, "I engage with a lot of music, with no particular style in mind." He also talked about his love of extreme dynamics, something he gleaned from Stockhausen and Webern, as well as his interest in incorporating "natural things, rhythmic stuff from every day life, and taking a lot from nature." He then explained to the group about something he calls 'rhythm trees,' a way of investigating different rhythms against one another. The exercises were challenging in their simplicity. Hands were clapped for over an hour before any instruments were picked up. "The key thing is the relationship of rhythms to each other," he explained. One participant described it as 'Gamalataki in four dimensions.' At the end of the workshop, both Karl and Ingrid said independently, "Tyshawn's doing for rhythm what Henry did with harmony' - breaking it up and looking at all the possibilities and facets.
Like every day, the last workshop, is the Improvisers Orchestra, conducted by Karl Berger. After two previous days, the group needed little time harmonizing together and jumped right into some Turkish pieces, Karl incorporating different groupings of musicians to create different musical colors, giving time and space for every participant to solo and stretch out, filling the barn with sounds never made there before. A wall of sound, the Improvisers Orchestra, plays with dynamics, winding down quietly and segueing into the evening listening meditation, a chance to be quiet, listen and to incorporate everything that had happened during the day.
The evening concert started off with a musical first: a duet with Marilyn Crispell and Tyshawn Sorey. It started quieter than quiet, and slowly, carefully built into a whirlwind of sound, before gently laying itself down. The crowd of about 40 roared with approval, clapping and whooping for several minutes. The duet continued with a composed piece that had more of a song structure to it, at times precious and beautiful. Then, Ke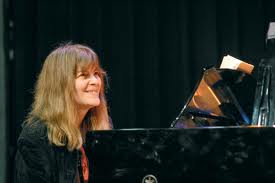 n Filiano, Karl Berger, and Omar Tamez joined Tyshawn and Marilyn for a lively, rollicking jam, punctuated by Karl's metallic tones on vibraphone. Next Ingrid Sertso came on and Tyshawn sat out, creating a quiet, almost chamber music group with Ingrid's vocalizations complementing the soft, airy playing of the group. Tyshawn came back on and played a few more tunes. He was supposed to leave for an early morning recording session but stayed much later than he had planned, transfixed by the next group: Karl Berger's Improviser's Orchestra, made up of all the participants. As always, Karl deftly found new sounds, colors and combinations, masterfully found ways to showcase every participant in a guided collective improvisation that lasted about an hour. It was a gorgeous, fitting ending to a week in which minds were blown, hearts were open, ears were cleaned out and new notes (and friendships) were made.
Thanks to all the Guiding Artists, the participants, the staff at Full Moon resort (especially Amy Carpenter and the chef!), videographer Don Mount for his tireless efforts, sound engineer Matthew Cullen for his ears and good humor, and especially to Karl and Ingrid for their continued inspiration and wisdom.
- Rob Saffer, CMS Executive Director
Participant Testimonials from CMS Spring Workshop 2014
"It's a chance to nurture ones' musical self, and be thoughtfully guided to touch on key aspects of music making skills - additive rhythm, body, voice, and instrumental skills. It's an opportunity to focus on playing with other sophisticated musicians who appreciate music as an endless exploration."
"I feel like I've been given the key to a special language shared by a few select musicians and artists in the world. I will always remember and use this special gift whenever possible. Thank you!"
"CMS workshops are rare and treasured events. I'm not aware of any other opportunity for a musician (or other artist) to meet, work and live with and learn from such an array of creative, generous people. At each CMS workshop I've attended, I've come away inspired to delve more deeply into a couple of areas to which I conclude I haven't been paying the proper amount of attention -- this time it was polyrhythms and Marilyn Crispell's compositional strategies, but next time I'm sure it'll be something different. Participation in the workshops has enhanced my confidence and willingness to trust myself; it's extremely rewarding to take chances and try new things with such talented, supportive musicians, and to be able to communicate and connect on such a deep level."
"It's a dream workshop."
"This is a workshop that teaches concepts related to performing improvised music. Using the format of "free" improvisation, one learns and is challenged by listening and rhythmic concepts related to improvisation, without necessarily being restricted by technical or theoretical knowledge. It is suitable for beginners as well as experienced improvisers. The interaction with the guiding artists and other participants provides an opportunity to exchange ideas regarding the process of learning to improvise."
"The basic teaching is illuminating because it is so profoundly insightful and deceptively simple. One's capacity for moment-by- moment attention is at issue in the teaching. Anyone who has meditated knows how constantly the mind interferes with being present in the moment - and that presence is just what is required in musical improvisation."
"The workshop is innovative, exciting and filled with possibility to experience yourself in a whole new light. I learned to take chances, and that I don't always have to play it safe."
"Sitting with Henry Threadgill for lunch was amazing. I learned volumes about music history for black musicians in the 50's and 60's that I could never have gotten anywhere else. The lesson he led with the group was full of profound insights."
"The CMS workshop is a place where improvising musicians get to explore a unique way of approaching musical expression. By working together with peers, mentors, visiting artists and guiding artists, we gain access to a philosophy and methodology that can only be found in the nurturing atmosphere that is CMS."
"CMS is a very unique and complete way to immerse oneself into music. The perfect balance coming into focus - bodywork, gamalataki - and new ideas, and group practice - in a perfect setting, the natural environment and seclusion from all the other daily challenges, is extremely special."
"CMS is very good for someone who already is a professional musician, to rethink musical concepts, tune in with the meaning of the music, get to a deeper level of practice. I think it is really critical to attract more musicians at a high level."