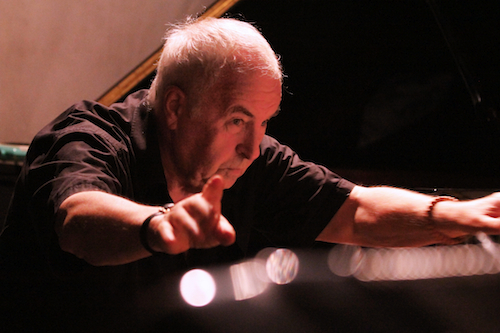 Improvisers Performances
CMS and its artistic director, Karl Berger, have pioneered an innovative way of blending the sounds of improvising musicians in ensemble and orchestral settings. The groups are comprised of leading professional string, horn, reed, vocalists and percussionists who are conducted in live improvised performances.
Using CMS core 'music mind' principles, Improvisers Performances typically start with a rehearsal that's open to the public in which conductors work with the group on sound, dynamics and deep listening, enabling audiences to listen in as Karl and other CMS leaders transmit the "Music Mind" concepts developed at CMS. Audiences can see how the conductors shape the sound and feel of the group and how it inspires the musicians to harmonize and blend orchestral sounds in an improvisational setting. These groups of extraordinary improvisers explore original themes, melodies from the world's folk traditions, and compositions written by legendary improvisers such as Don Cherry or CMS co-founder and guiding spirit, Ornette Coleman, as well as musical ideas that arise spontaneously during performances.
The groups can be small ensembles such as a septet or expanded to a chamber orchestra or larger 30 piece or more orchestras.
CMS  IMPROVISERS ORCHESTRA REVIEWS
Karl Berger has been a pioneer in large-scale jazz improvisation longer than just about anybody, which explains why his Improvisers Orchestra swings as hard, and interestingly, and often hauntingly as they do…Berger is an elegant and economical pianist, which informs how he conducts….Berger reaches deep into his bag of riffs and sends them through the orchestra, sometimes wafting, sometimes reeling, sometimes both….Like the best big bands, this crew use the entirety of their dynamic range. The ensemble weren't often all playing at once, making those lush crescendos all the more towering and intense… built to lush, swinging swells with the phantasmagorical sweep of the Gil Evans Orchestra and the rough-and-tumble bustle of the Mingus bands. The camaraderie and warmth of the repartee between the orchestra and conductor – and among the orchestra itself – was visceral. —Lucid Culture (Blog)
The suite-like performances have a warm, buoyant vibe issuing from brief folkloric-like motifs and the low-key, common-sense guidance Karl offers his players. They are mostly veteran musicians from avant rock and world music as well as jazz scenes, and can expand on simple themes paying utmost attention to dynamics and each other…..The collective's intuited communication has attained a high point since weekly shows began last April 2011.  —Howard Mandel
The compositions of Karl Berger have a clear-cut destination, with a beginning, a middle, and an ending…..Surprisingly, much of Mr. Berger's music isn't exactly free form but draws on lush harmonies and a well-defined relationship between foreground soloists and background…..The music is comparatively easy on the ears because Mr. Berger also relies on woodwinds, reeds and strings (as well as the soothing voice of Ingrid Sertso) rather than brass. —Will Friedwald, Wall Street Journal
The orchestra's sound is born of the moment, founded by the players' instincts, skill and need to emote—and it's then organized by Karl's artful hand and facial expressions. Sculptor-like, he molds and shapes the aural force emanating from this collection of brass, reeds, strings and percussion set before him. Berger has developed an incredible language of his own; never losing sight of the musicians' individuality,he plays the orchestra. This orchestra has proven itself as a wonderfully expansive vision of what a 'big band' could be. From early September till this writing (December 2011), the line-up has shifted in membership with a solid core of regulars and a series of guests who are passing through New York while on tour. Each time I have seen new faces, heard new accents and reveled in new and exciting musical concepts.    —John Pietaro
CMS Improvisers Orchestra Roster of Players (a sample):
Warren Smith, Lou Grassi, Harris Eisenstadt, Harvey Sorgen, David Miller (drums), 
Ken Filiano, Adam Lane, Joe Fonda, Hilliard Greene, Dominic Lash, Michael Bisio, David Perrott, Lisa Dowling, Ratzo Harris (bass) 
Kenny Wessel, Harvey Valdes, Ted Orr, Bill Wright, Adam Caine, Mike Gassman, James Keepnews (guitar)
John Ehlis (mandolin), 
Catherine Sikora, Avram Fefer (soprano sax), 
Welf Doerr, Patrick Brennan, Mercedes Figueras, David Schnug, Jorge Sylvester (alto sax), 
Peter Apfelbaum, Ras Moshe, Stephen Gauci, Yoni Kretschmer, Darryl Foster (tenor sax)
, Bill Ylitalo, Sean Sonderegger (baritone sax)
, Avram Fefer (soprano sax, tenor sax, bass clarinet), 
Don Davis (altosax, contra alto clarinet)
, Blaise Siwula, Jason Candler, Miguel Malla, (clarinets), 
Michael Lytle, Josh Sinton, Bohdan Hilash (bass clarinet), 
Sylvain Leroux (flute, African flutes)
, Yukari Watanabe (alto flute)
, Ken Ya Kawaguchi (Shakuhachi)
, Eddie Rollin (oboe), 
Sarah Schoenbeck (bassoon), 
Steven Bernstein, Herb Robertson, Thomas Heberer, Brian Groder, Bob Selcoe, Kirk Knuffke (trumpet)
, Steve Swell, Chris Washburne (trombone), 
Yasuno Katsuki, (euphonium), 
Sana Nagano, Frederika Krier, Chern Hwei Fung, Skye Steele, Eloisa Manera, David Bakriges (violin), 
Jason Hwang, Nicole Federici, Judith Insell (viola), 
Tomas Ulrich (cello), 
Art Bailey (accordion)
, John Pietaro, Hollis Headrick (percussion),
Ingrid Sertso, Mossa Bildner, Thomas Buckner (vocals)

, A trademark of all KBIO performances is the vocals and poetry of Ingrid Sertso.
Karl Berger's Improvisers Orchestra - El Taller, NYC - Oct 4 2013
Karl Berger (melodica, conducting), Ingrid Sertso (voice, poetry), Matt Lavelle (trumpet), Brian Groder (trumpet), Yasuno Katsuki (euphonium), Westbrook Johnson (trombone), Bill Ylitalo (baritone saxophone), James Brandon Lewis (tenor saxophone), Patrick Brennan (alto saxophone), Mercedes Figueras (soprano saxophone), Rocco John Iacavone (soprano saxophone), Michael Lytle (bass clarinet), Bodhan Hilach (contrabass clarinet), Yukari (alto flute, flute), Nick Gianni (bass flute), Michael Gassmann (guitar), Harvey Valdes (guitar), John Ehlis (mandolin), Thomas Ulrich (cello), Leonor Falcon (violin), Concetta Abbate (violin), Sana Nagano (violin), John Pietaro (percussion), Nicolas Letman-Burtinovic (bass), Warren Smith (drums).